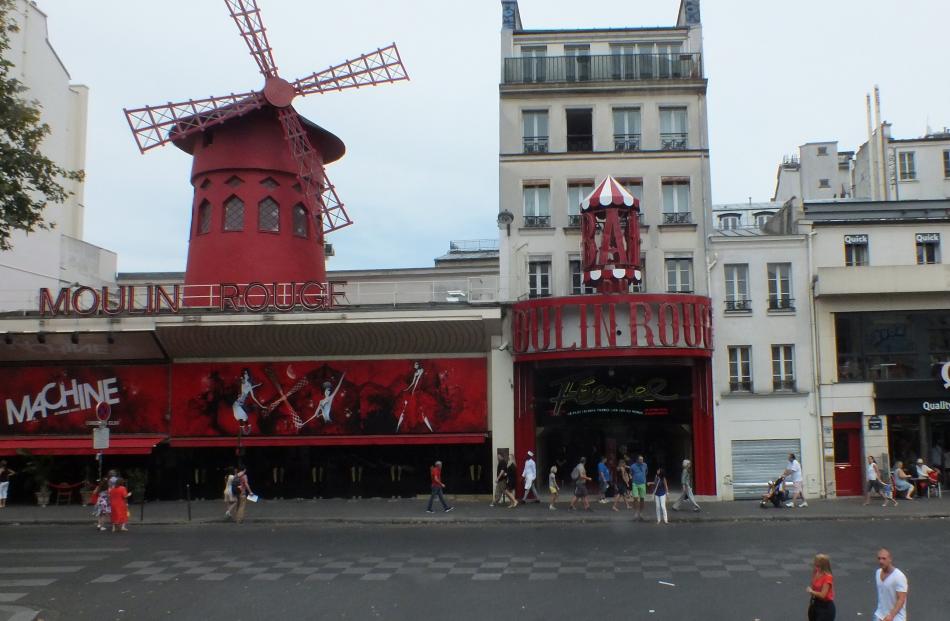 Despite an inauspicious start, Gillian Vine fell in love with Paris.
I'd never travelled on the Paris Metro and it started badly: I got stuck in a turnstile.
My daughter Bettina was mortified, muttering that if we had to pay again, I'd have to hand over the money as she wasn't paying for me twice. Then she smiled at the attendant and explained the situation in French, which I don't understand, but obviously something along the lines of her mother being a dithery old duck who couldn't work a simple system. The sympathetic attendant let me through without paying extra and we whizzed along to our apartment-style accommodation in the Marais.
Despite the inauspicious start, I fell in love with Paris. True, summer is the peak tourist season when all the major attractions are crowded. For instance, in July or August, to ascend the Eiffel Tower queuing for an hour is considered a brief wait, hardly surprising as late one morning I counted 27 tourist coaches parked nearby, while at Notre Dame cathedral it is impossible for the faithful to spend any time in quiet contemplation.
The crowd outside the main entrance to the Louvre, with its distinctive glass pyramid, can be daunting. To me, it looked as if most of the annual tally of 10 million visitors were there on the same day to see some of the 35,000 art works on display. There are quieter entrances via Carousel du Louvre shopping centre, the Passage Richelieu and the Porte des Lions but it pays to check their opening times. Visiting after 3pm helps avoid the worst crush.
Paris' lesser-known museums are relatively quiet. I liked the Petit Palais for its Baccarat crystal and paintings, including a small selection of Impressionists on the lower level.
Uncrowded until lunchtime was the well-regarded Picasso museum, where some 5000 of the Spanish-born artist's works are on show, as well as items from his own collection, while an unexpected delight was the Rodin museum. Just around the corner from Dome des Invalides, which houses Napoleon's tomb, it is in the mansion where the sculptor worked. We opted for the 5.50 ($NZ8.75) garden-only ticket which enabled us to see Rodin's most famous work, The Thinker. OK, I confess it was the only one I'd heard of but I was delighted that the garden contained dozens of others, including the chilling Ugolino and his Children.
After all that culture, a bit of shopping seemed in order. Seeing the swarms of young Chinese - many of whom come to the city to have their pre-wedding photos staged - staggering out of major store Galeries Lafayette, each woman juggling at least five carrier bags, I decided to skip this icon of Parisian retail experience.
Instead, thanks to Bettina's local knowledge, we went to an intriguing secondhand clothes outlet, Kilo Shop Kawai. This chain does not price items individually but sells by weight. Silk blouses barely registered on the scales but those in colours I liked were too big or too small and I reluctantly passed, although Bettina scored a lovely blue cardigan for about $NZ8.
Paris is surprisingly green. The Tuileries and Jardin du Luxembourg are well known and busy at weekends with activities ranging from pony rides and toy yacht sailing to spinning around on the big wheel at the Tuileries amusement park.
A quieter green space is Promenade Plantee, an elevated garden that runs almost 5km but is just a few metres wide because this park was originally a railway viaduct.
However, the city's most intriguing outdoor space has to be Paris-Plages, an artificial beach alongside the River Seine. Operating only from mid-July to mid-August, Paris-Plages was devised for those who can't get out of town in the month when most Parisians take their summer holidays.
You can't go to France without eating cheese and sipping wine. We got a different take on these two pleasures by joining lively American Meg Zimbeck, food writer and founder of Paris by Mouth, to learn how different wines enhance or detract from a cheese.
There was no need for lunch after that, so we ambled back to our hotel to pick up our bags and go to Gare du Nord to catch the Eurostar train to London. We used the Metro and I negotiated the turnstile, this time without a hitch - whew!

See them
 •The Petit Palais is one of a raft of free museums and cultural attractions in Paris. See en.parisinfo.com/discovering-paris/themed guides/paris-for-free/free-cultural-outings-in-paris/free-admission-and-good-deals-in-museums-and-monuments-in-paris for a comprehensive list.
 •The Louvre: Closed on Tuesday but open from 9am-6pm other days with late closing (9.45pm) on Wednesdays and Fridays. Entry is €15 ($NZ23.85) but if you're in Paris on the first Sunday of the month from October to March, it is free.
 •Picasso Museum, Open Tues-Fri 11.30am-6pm and Sat-Sun 9.30am-6pm; admission €12.50 ($19.87); free on first Sunday of each month.
 •Rodin Museum: Open Tuesday to Sunday, 10am-5.45pm; admission €11.30 ($NZ18) or €5.50 ($NZ8.75) for the garden only. Several companies sell passes that give entry to more than 50 museums and other places of interest, but although they save time at ticket offices, the cost is from about $76 (two days) to $125 (six days), so unless you plan to visit three or four attractions a day, they can work out more expensive than paying as you go.
 •Paris by Mouth (parisbymouth.com) offers informative, small-group, food- based tours.
Getting the picture
For an overview of central Paris, start with a hop-on, hop-off tour. The best is L'Open Tour, which has four lines with 50 stops at notable places such as Moulin Rouge; a €33 ($NZ52.50) ticket lets you travel on all routes. The company also offers a two-day boat and bus pass (€46): both are good value.
Many of the famous attractions, such as the Louvre and Notre Dame, are close to the Seine. Walking is the way to see everything in fascinating close-up, especially if you plan to browse the stalls on the Left Bank. Weather-wise, the best time to be in the French capital is probably April or early May, when the dull, damp winter and early spring weather has retreated, replaced (at least half the time) by blue skies and daytime temperatures of about 18degC.
Summer is the busiest but because of the long-established August break, a number of restaurants close for up to a month. There is never any shortage of places to eat though, and, as everywhere, the closer you are to major attractions, the more a meal is likely to cost.
A place to stay
Citadines is a chain of serviced apartment-style accommodation, whose rates vary according to location. We chose the Bastille Marais, 37 Bvd Richard Lenoir, a twin-bedded, open-plan bedsitter whose bathroom had the best drying rack I've seen anywhere. The kitchen was equipped with pots and pans, cutlery and plates, plus dishwashing liquid as well as a dishwasher (tablets supplied). There was a ground-floor laundry, good value at about $15 to wash and dry a week's dirty gear. Using an online site scored us two nights at less than the standard (rack) rate for the apartment; if you stay for more than a week, rates are even lower. A big plus of this property was that, being in a largely residential area, there was an excellent market just across the road that operated several days a week. There we could buy everything we needed to dine well in the apartment, as well as bags, jewellery, soaps and other small items suitable for gifts.