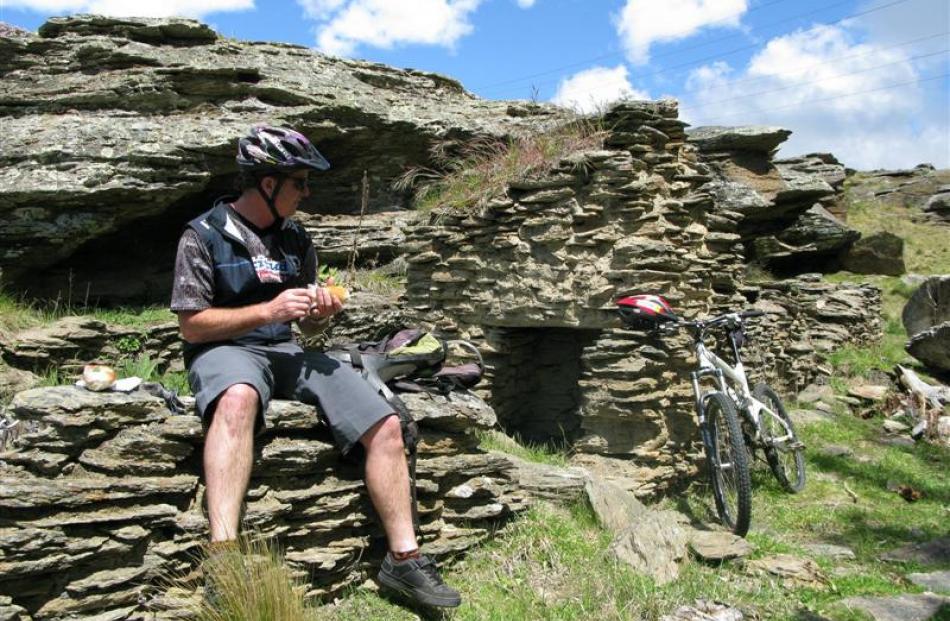 Central Otago cycling doesn't have to be all about rail trails. Jeff Kavanagh discovers there are other tracks to try.
I feel a bit underdressed. All around me, middle-aged couples are finishing their breakfasts of muesli and stewed fruit, happily kitted out in thigh-cuddling cycle shorts and sleek, state-of-the-art windbreakers. 
They speak enthusiastically in strong Kiwi and Australian accents about the day's riding that lies ahead, before taking final gulps of juices, grabbing sunglasses and cycling gloves from their tables, and heading out of Dunstan House B&B in Clyde.
Up later than everyone else, I'm still only halfway through my cup of tea and warm croissant when I find myself alone in the cosy, heavy-draped dining room of the former Cobb and Co staging post, my biking attire of jam-stained T-shirt, shorts, and seven-year-old jogging shoes no longer quite so conspicuous.
By the time I'm ready to go, the 16-strong group, on a tour with a company from Christchurch, have already set off on their first leg of the Otago Central Rail Trail. I'm heading towards Alexandra as well, and am also going to do some guided riding, but not along the same route.
Instead, I glide the short distance from Dunstan House down and across the bridge to Earnscleugh and into the dappled forest light of the river track that accompanies the glassy green Clutha River southeast.
It's a cool and slightly overcast early-summer morning, and the track, beyond a couple of people walking their dogs, is deserted.
Maree, one half of the superbly hospitable husband and wife team that own and run Dunstan House, reckons the undulating 12km path takes her just over an hour and a-half if she paces herself.
Having forgotten momentarily the point of cycle-touring is actually doing this, I begin slaloming my mountain bike through the trees, bouncing over mounds in the track, and burning around corners.
Forty minutes later I'm in Alexandra and half an hour too early to meet Phil, the owner of Altitude Adventures and my guide for the day, so I grab a flat white from the Courthouse Cafe in the middle of town, and make a note of its tasty-looking French rolls stuffed with pork belly and hoisin sauce for later consumption.
Phil meets me with a wide grin, but with the news that, despite the otherwise sunny weather, the Old Man Range, which we'd planned to spend an hour driving up and three hours cycling down, is covered in cloud and too cold and windy to ride. A sprightly 49-year-old ex-boatbuilder and chef who has been running cycling tours in Alexandra for the past 10 years, he tells me that the average annual temperature at the top - just under 1700m above sea level - is 0degC, and that today we're better off exploring the lower reaches of the range.
Once we've loaded up the bikes on the back of his 4WD, we drive 10 minutes in the direction of Roxburgh, before making a short detour to Conroy's Dam.
Like much of the surrounding region, Conroy's Gully was extensively mined for gold in the 1860s and along the Department of Conservation track that snakes its way through the craggy, grassy terrain of the Aldinga conservation area hide the remains of old miners' huts, including one perfectly preserved dirt-floored abode built under an enormous overhang of schist rock.
Following a short, vigorous 40-minute uphill ride, we stop here for a lunch of ham rolls and Belgian biscuits. It's rough, but beautiful landscape, sprinkled with purple patches of wild thyme, and Phil tells me about the hardships the early miners had to endure.
Sitting in the sun, looking out towards Mt St Bathans and the snowcapped Hawkdun Range in the distance, listening to stories of exhausted miners sleeping rough on bone-achingly cold winter nights, I can't help but feel I've got it lucky.
After lunch, we continue to ride the track up the hill until we need to get off and clamber down into a gully, ford a creek and push the bikes up a steep grassy bank on the other side.
From the top, there's a rapid and very enjoyable descent down a bumpy farm road back to the dam, passing a large, fenced-off skink sanctuary on the way.
With the stop for lunch, the loop takes us just over an hour and a-half; and, although there are the options of a ride down Earnscleugh road to Alexandra, or a short hop across State Highway 8 to Butcher's Dam, the pretty little body of water that greets motorists driving up from Roxburgh, and more riding in the Flat Top Hill conservation area, I'm happy to be ferried to Alexandra for my cycle back to Clyde.
It hasn't been the toughest day's riding, nor possibly as long as that of the rail trail group I breakfasted with, but, nonetheless, by the time I arrive back at Dunstan House, I've managed to work up enough of a sweat to feel that I've earned the pleasure of putting my feet up with a cold beer in the shade of the B&B's lovely old balcony.