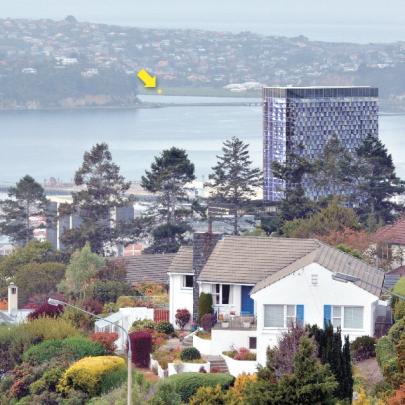 Scientific it may not have been, but I still found Melbourne artist Shane McGrath's yellow balloon demonstration on Monday an interesting addition to the ongoing debate about the proposed $100 million waterfront hotel.
So we've decided to add a little more context to yesterday's main front-page photograph by getting our artist to drop in an approximation of what the 28-storey, 96m-high building might look like, when viewed from Highgate Bridge.
What do you think?
Reaction to our story, especially on our website, was, in the main, supportive of Shane's ''artistic, research-based project'', designed to show, roughly, how high the hotel would be.
I didn't really take too seriously the reference to ''art'' but Shane tells me the launching of his ''Gelber Luftballon'' is all part of an exhibition at the Blue Oyster Art Project Space, due to open next Tuesday.
Powerful stuff, art. I guess we can now add Shane's balloon to Dunedin's other provocative installations such as the Harbour Mouth Molars (2010) and the Haka Peep Show (2011).
Below is the view from a camera attached to the balloon.
- This is an excerpt from Dave Cannan's column The Wash in the print ODT.
Shane McGrath: Gelber Luftballon (Dunedin Research Project) from Blue Oyster on Vimeo.