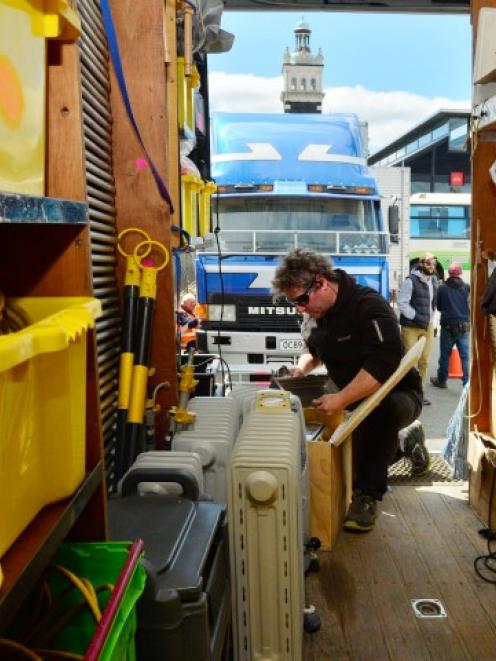 A peek behind the scenes of a Hollywood production shooting in Dunedin revealed just how complex the business of movie-making is.
The Light Between Oceans, starring Michael Fassbender and Rachel Weisz, was being filmed at the former Dunedin Prison yesterday and is expected to continue for three weeks in the city and a week in the Central Otago village of St Bathans.
With the prison out of bounds yesterday, the Otago Daily Times was invited to take a look at the film crew compound next to the Dunedin Railway Station.
The film's supervising location manager, Jared Connon, who was on hand to show us around, said the trucks and caravans at the compound were home to some of about 80 support staff who were in the city.
Included in the convoy were make-up and costume trucks, a generator truck, and trailers where the movie's stars could relax in between filming, Mr Connon said.
After filming at one location, the crew packed up and shifted to the next site.
''Drivers come in, jump into the vehicles and then we move them to the next site and then we have got to set it up that night again, so it's ready to go again.''
The logistics of setting up for shooting were always a ''challenge'', but filming in Dunedin had gone well so far.
''You try and end up in locations that have got that good infrastructure, where there are good accommodation options.
''There is always the artistic side of things that they are looking for, but the production is always looking at the practical side of things,'' he said.
The crew was moving to a new location, which he would not reveal, for shooting today.