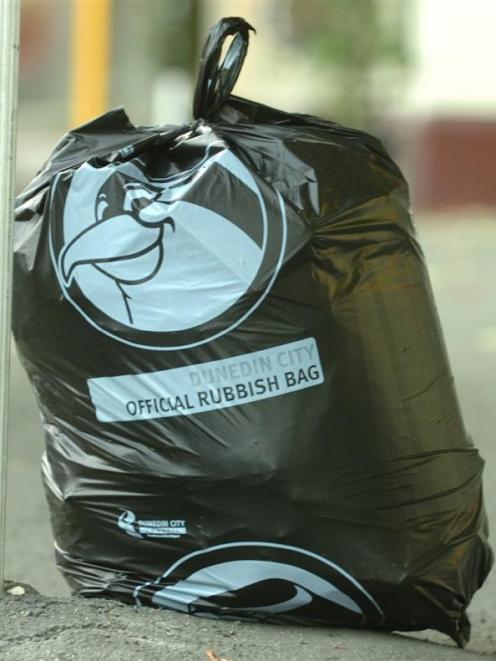 Those who like to fill black rubbish bags and take them to the dump one or two at a time might be looking for another option come March, as Dunedin City Council staff recommend charging by the vehicle size rather than by the bag.
Council staff say it was becoming too difficult for booth operators at city landfills to accurately assess the declared number of black bags in a vehicle, and too many people were not declaring how many bags they had or what sort of rubbish was in them.
They are recommending councillors considering upcoming council budgets agree to base the charging on vehicle type, and eliminate the problem.
However, for the customer with a car, that means a trip to the tip to dispose of one black bag will cost $18 from March, and $20 from July, compared with the current cost of $2.10. If the person has a station wagon, it will cost them $32 from March and $35 from July.
''If people want to fill one black rubbish bag, they will just have to buy a council one and leave it on the kerbside for collection,'' solid waste manager Ian Featherston said.
Council staff are proposing charges for use of Dunedin's landfills and transfer stations go up across the board, after a review showed the revenue the Green Island and Waikouaiti landfills and Middlemarch Transfer Station collected was 20% less than what it cost to actually dispose of the rubbish, and Dunedin's charges were 20% less than national average charges.
Increasing the fees by 7% in March and a further 10% in July would cover the cost of disposal for the year, a report from water and waste services manager Dr Laura McElhone to councillors said.
If fees were left as they were it would cost ratepayers an extra $195,000 this year to run the city's landfills.
Mr Featherston said people often arrived at landfills with black bags filled with rubbish for disposal, and the council expected there would be some backlash to the new charging regime.
A marketing campaign was planned for before the changes were implemented.
Aquatic services staff will also seek the approval of councillors to adjust their charges to be more consistent between adult, concession and child rates and product charges.
The proposal is to set concession fees at 60% of the adult rate and child rates at 50% of the adult rate.
The result would be a more robust and easier-to-justify fee structure with slight increases in some charges and reductions in others, a report from aquatic services manager Steve Prescott said.
The changes would potentially see a total increase in revenue of $100,000 for aquatic services for 2013-14.
Councillors will consider these proposals and other fee changes as part of their annual plan deliberations.
Building services manager Neil McLeod said changes to deposit sums for consents for certain building projects reflected more accurately, after review, the likely total cost of the consent, meaning less surprises for people at the other end.