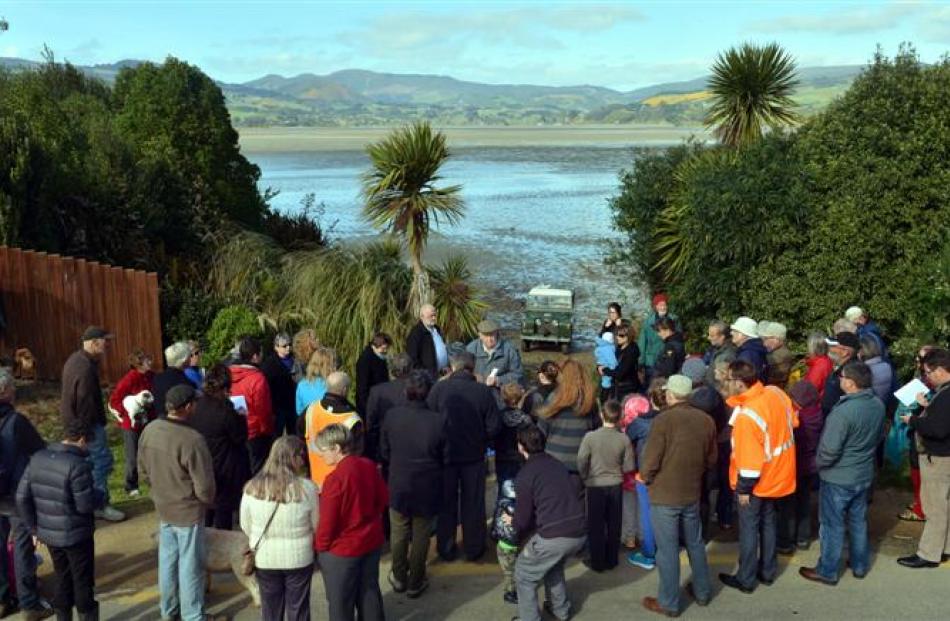 Tensions bubbled to the surface during a meeting about two rocks in Warrington yesterday, but were stopped from boiling over when a community leader told people to simmer down.
As the gathering of about 50 people, including most city councillors and community board members, seemed about to descend into rancour, Waikouaiti Coast board chairman Gerard Collings said people on both sides of the dispute about the rocks blocking a road had a basic right to speak.
''It's disappointing this has become so much of an issue and personalities have started creeping in among our community. We need to be better than this today,'' Mr Collings said.
The rocks were put in place six years ago at the behest of some members of the community to stop vehicles using a short road to Blueskin Bay.
Some members of the community want the rocks to stay because they say they make the corner where they sit safer, but others want them removed because they block a legal road.
In September, the Dunedin City Council acknowledged the road had never been legally stopped after the rocks appeared.
Following a plea from Warrington Ratepayers and Householders' Association representative Sir Julian Smith, the majority of the infrastructure services committee voted to remove the rocks for six months for a trial to see if the perception of the issues was real.
Three weeks later, the council stalled the rocks' removal following similarly passionate pleas from other members of the Warrington community to keep them there.
Councillors yesterday viewed the rocks and invited both groups to again put their arguments while they were there.
Speaking on behalf of members of the community who lobbied to keep the rocks in place, Lyn Hastie said they were concerned about the safety of local children using a path where the road rose to meet the formed road at the corner.
They supported advice council staff gave to councillors that the road was too unsafe to be reopened. If that advice was to be overruled, significant safety improvements were needed.
Those gathered were quiet while Mrs Hastie spoke, but fired up when Sir Julian starting speaking, at which point Mr Collings stepped in.
Sir Julian, a land-owner and long-time holiday-maker in the village, speaking on behalf of members of the community who want the rocks removed, argued the road was never legally stopped, so the council was in breach of the rules ''and they know it''.
Even if the road was reopened, it would be rarely used; it was used for many years without issue.
Parents worried about their children should be ''exercising parental care'' anyway, he said.
The council's infrastructure services committee will revisit the issue at its next meeting on October 14.
The agenda, including a report from staff, will be available later this week.