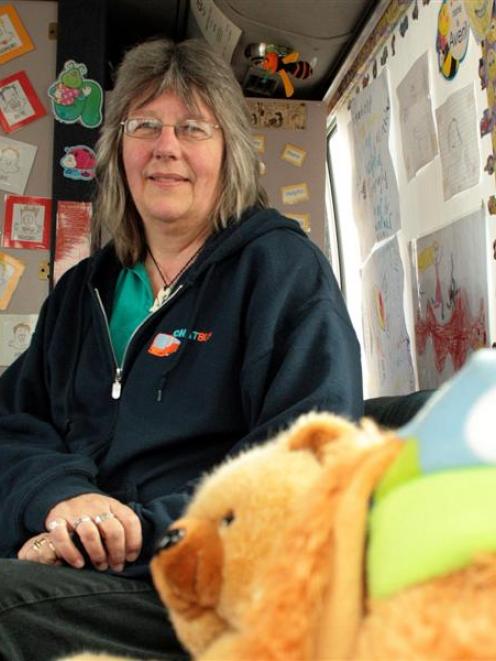 For many of Dunedin's youngest citizens a trip to the ChatBus is just a chance to talk to someone friendly about what's bothering them. For a ''scary number'' of others, it is a lot more than that. Dan Hutchinson talks to primary school counsellor Averil Pierce about what is bothering our children.
The teddy bears and comforting slogans around the walls of the ChatBus do not really tell the story of what goes on in this tiny mobile counselling room.
More than 300 primary-age children are referring themselves for a chat in this room at least once a year, sometimes more often, and hundreds more are missing out because of a lack of funding.
''It is not just a nice wee talk with someone who cares. It is big stuff,'' founder of the primary school counselling service Averil Pierce said.
Issues ranged from the break-up of parental relationships to anorexia, self-harm and abuse.
Children cutting themselves was one of the ''trends'' at the moment, some doing it for the buzz and others just copying, Mrs Pierce said.
There was a massive demand they could not fill quickly enough as an entirely community-funded organisation, with two buses and two counsellors.
''Alcohol, sex, drugs - they are all what we would term teenage issues but they are coming down in the years.''
Her service was born out of tragedy in 2006 after a spate of youth suicides in the city.
One of those was a 15-year-old boy in Mrs Pierce's youngest daughter's class and they both went to the funeral.
''When I was standing at the funeral I just kept thinking 'why is this happening, what is going wrong?'.''
She realised the problems were often starting much earlier than high school.
A year later, with help from friends, family and supporters, she set up the mobile ChatBus service, starting with the city's three intermediate schools.
''My appointment book is pretty full most of the time. That says to me that this service is meeting their needs, because kids are pretty honest.''
They have since expanded into nine primary schools, with just as many on the waiting list.
Children book themselves into the service and about 80% of what they talk about is ''family-related stuff'' - parents fighting, splitting up and shared custody arrangements.
Another obvious trend was more younger children experimenting with sex, Mrs Pierce said.
Others were being abused at home. Tahuna Intermediate principal Tony Hunter said ChatBus was a valuable service because the counsellors were experienced and qualified.
Many children were benefiting from the service.
He said the Ministry of Education was interested in the programme but only high schools were funded for counsellors.