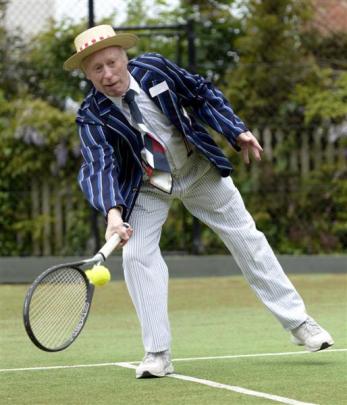 Members of the Cosy Dell Tennis Club celebrated the its centenary in Dunedin with pinstripes, pretty dresses, bonnets and bow ties on Saturday afternoon.
Club president Adele Poulter said about 70 past and present members celebrated the Dunedin club's milestone.
Some past members came from Arrowtown and Christchurch for the celebration, she said.
A dozen committee members dressed in period costume from 1912, she said.
Those attending the reunion could play tennis and watch a mixed doubles exhibition match between Kobus Faber (Milton) and Jan Scott (Dunedin) and Jim Todd (Dunedin) and Villa Faber (Milton), she said.
The tennis court cake was made for the celebration by Juliet O'Donnell, of Fairfield, she said.
The celebration concluded on Saturday night with a dinner in Dunedin, she said.
Centenary committee member Lindsey Moore said when the club opened in 1912 there were three asphalt courts surrounded by "magnificent homes" that were now student flats.
The asphalt courts were replaced with synthetic grass courts in 1989 to entice new members and a fourth court was added in 2008.