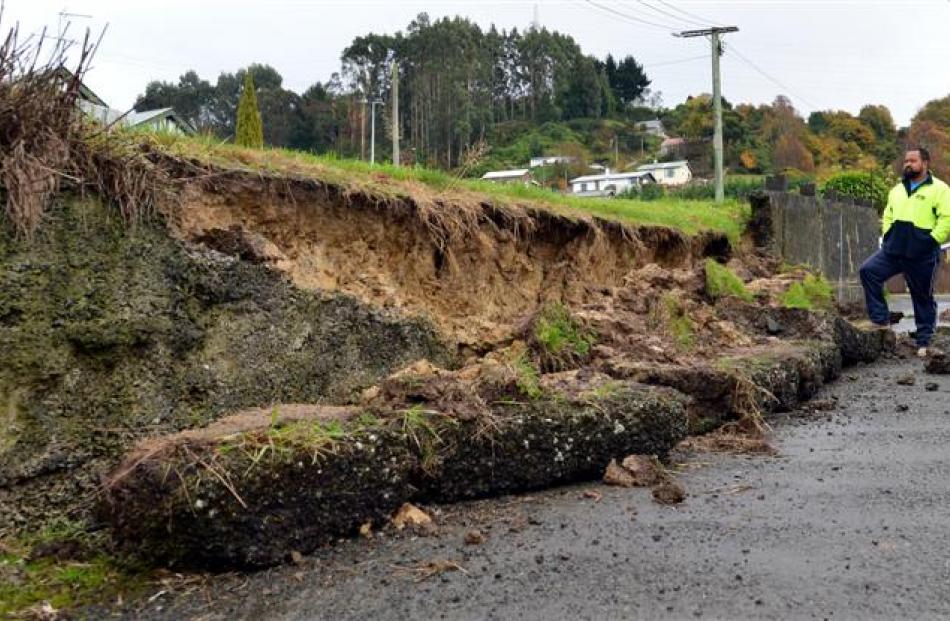 Blocks of broken concrete and clods of sodden mud collapsed on to a Dunedin driveway early yesterday, blocking vehicle access to five houses.
The affected home owners in Asquith St, Caversham, want the Dunedin City Council to deal with the issue, but the council says the wall was built by the developer of their subdivision in the 1950s, and is entirely on private property.
Residents had no vehicle access to their homes after the concrete retaining wall, which is about 60 years old, collapsed.
Resident Ken Stevens said he was woken by a ''thump'' about 6.45am.
''I got up - I thought `something's wrong','' he said.
Mr Stevens looked outside and discovered the retaining wall - and plenty of soil from the grass verge it held back - in the private driveway that services the Asquith St homes.
He said there had been a crack in the wall for about 14 years, and residents had been in discussion with the council for the past five years or so.
Property owner Mark Ford was also at the site of the slip yesterday morning. He said each property extended across the driveway to the wall.
He, and other residents at the site yesterday were strongly of the view the council had a responsibility - particularly because the soil that had dropped on to the driveway was council property.
But council transportation policy engineer Jon Visser said yesterday the driveway was ''completely'' on private property.
The council had sent residents a letter last year urging them to maintain the wall.
The property developer had cut into the hillside of the council's road reserve, and the property owners had a responsibility to maintain the wall.
The council was ''very much the victim'' in the situation.
Mr Visser said while building consent for the wall would be required, the council would be willing to provide approval.
Yesterday afternoon the residents had called in a contractor to remove the rubble from the driveway.
But Mr Stevens said once that was complete, the residents would be contacting the council again to argue their case.