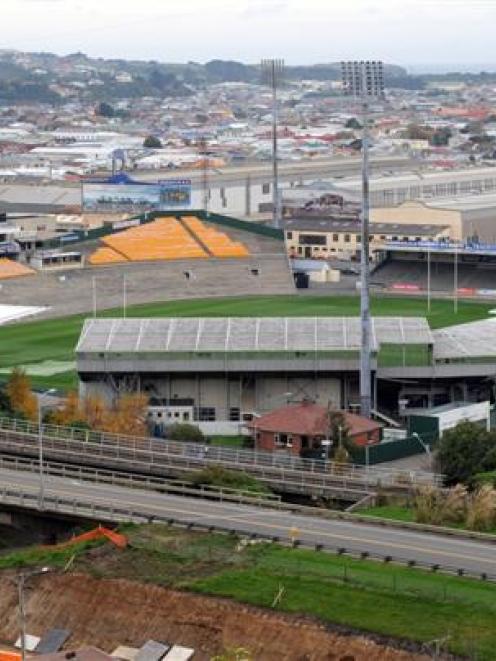 The historic Carisbrook ground was read its last rites yesterday, after its demise came quickly.
The Dunedin City Council discussed the issue yesterday as part of its annual plan deliberations.
There was just a brief debate before the final decision was made to sell it. The ground's end became clear when the new, roofed stadium was finally approved in 2009.
Public consultation was held last year, and while there were plenty of people who wanted to keep the facility as a sports ground, the discussion was held in the context of a council warning it would cost almost half a million dollars a year to maintain.
In January, the council voted to proceed with the sale of the property, including the car park next door, as industrial land, subject to final consultation during the annual plan.
City property manager Robert Clark told the council at the time there were willing buyers for the site, with a reasonable possibility the city would break even on the $7 million it paid for the ground.
While a number of people who wrote on the subject for the plan wanted to keep Carisbrook as a sports ground, no councillor called for that to happen yesterday.
Cr Syd Brown moved it be sold "forthwith", a motion seconded by Cr John Bezett.
Cr Lee Vandervis raised concerns it might be needed as back-up during the Rugby World Cup, but he was assured it was to be used as a training ground at that time, and would not be handed over to new owners until after the event.
Mayor Dave Cull said the council's January decision stipulated what could not be done at the site, including big box retailing, but that still left the way open for something other than industrial use if that was wanted.
The motion was carried unanimously.
Former sports broadcaster Iain Galloway said the decision was "sad but not surprising" news.
The historic ground had been his "second home" for more than 80 years.
"[I] just hope there is still a possibility it may end up in sporting or recreation hands," he said.
Former All Black Tuppy Diack said it would be "very, very sad to see it go", despite being a supporter of the new stadium.
"Dunedin had to do something in the stadium line and that's given us a real point of difference," he said.
He hoped a fitting tribute would be made to Carisbrook within Forsyth Barr Stadium and that the historic ground would continue life as a sporting facility.
Carisbrook's playing field and turnstile building in Neville St are registered as category 1 historic buildings which would have to be protected in any developments. New Zealand Historic Places Trust Otago-Southland area manager Owen Graham had no comment about yesterday's move.