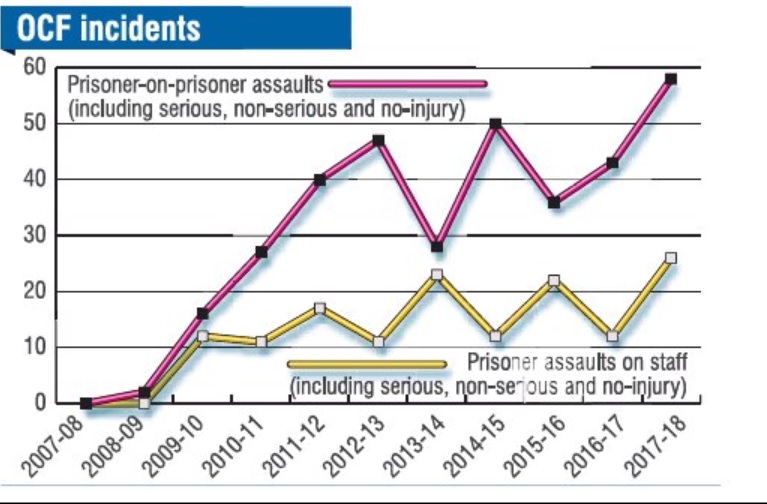 Assaults at Otago's prison reached record heights in the previous financial year, new figures reveal.
But Corrections continues to maintain there is no evidence of a significant increase in violence or threatening behaviour at Otago Corrections Facility (OCF).
The number of prisoner assaults on other inmates at the Milburn facility rose from 16 in 2009-10 to 58 in 2017-18, according to figures obtained by the Otago Daily Times under the Official Information Act.
Over that period the population of the prison jumped from 305 to 483. Those 58 assaults still represent more than double the rate per 100 inmates compared to 2009-10.
Of those 58 assaults, 27 were classed by Corrections as "no-injury", 30 as "non-serious" and one as "serious".
Serious prisoner-on-prisoner assaults at the prison have declined in recent years, from a peak of eight in 2012-13 to about one every two years.
Prisoner assaults on staff at the at OCF also reached a record high of 26 in the previous financial year, more than double the 12 in 2009-10, and representing a rate per 100 inmates of 5.4% versus 3.9% eight years before.
Most of those 26 assaults (19) did not result in injury, six were non-serious and one was serious.
Serious prisoner assaults on staff remain relatively rare at OCF - six have been recorded since it opened in 2007.
Before the figures came to light, Corrections chief custodial officer Neil Beales, of Wellington, said in an interview there was no significant increase in serious assaults at OCF, a claim supported by the data.
However, when presented with the figures showing 2017-18 was a record year for both prisoner assaults on other inmates and on guards, he again claimed in an emailed statement there was no evidence of a significant increase in violence at the prison.
"Corrections is still of the view that there is no evidence of a significant increase in overall violence or threatening behaviour at OCF.
"There are always fluctuations in statistics from year to year and this is clear in this data."
Mr Beales said a review of incidents over the past year revealed they had been perpetrated by a small number of prisoners.
"Prisoners identified as perpetrators of staff assaults over the last six-month period showed common traits in that they were either a gang associate or suffered from mental distress."
Incidents classed as relatively minor, no-injury assaults included a cup of water being thrown at an officer, a prisoner spitting at an officer repeatedly, and one where an officer slipped over while retrieving some equipment from a prisoner, Mr Beales said.
Three officers were assaulted in two separate incidents over two days at OCF in February this year, two of whom were taken to hospital, sparking reviews by the Corrections regional commissioner.
Mr Beales said one of the assaulted officers had left Corrections, but the other two remain employed.
A well-placed source confirmed one of those two officers remains on leave following the assault.
The review concluded the fact both assaults happened immediately after unlock showed that was a high-risk activity for officers, Mr Beales said.
"All staff involved in both incidents responded and acted in a professional manner to the presented threat, ensuring fellow staff and the prisoner's wellbeing throughout the ordeal.''
The Otago Daily Times earlier this year reported the concerns of a man who works inside OCF who believed it would be only a matter of time before someone was seriously injured or killed at the prison, due to rising gang violence and random attacks.
After those articles, a woman whose ex-partner died by suspected suicide days after returning to work at OCF came forward.
ACC found his death in 2017 was likely due to psychological damage stemming from an earlier assault at the facility.
In her view, there had already been a death at the prison due to what she said was Corrections' failure to provide a safe work environment, though the Department declined to comment while the case was before a coroner.