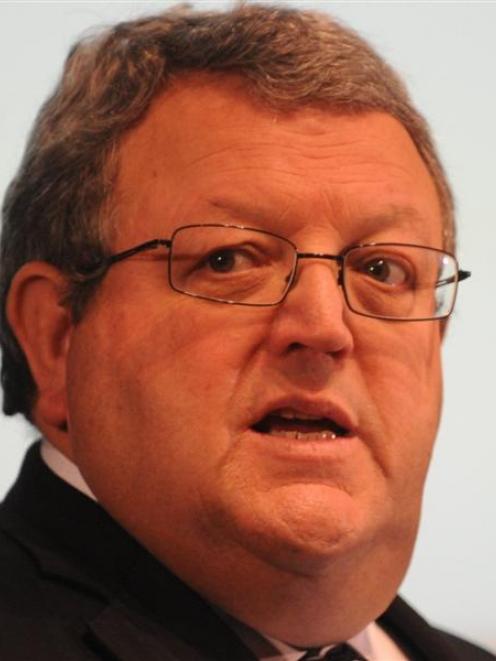 MP Clare Curran has attacked KiwiRail for taking legal action to stop publication of a leaked internal report outlining its plans to slash jobs and network maintenance over the next three years.
The Dunedin South MP says the Infrastructure and Engineering Business Plan report, which her Labour Party colleague, Phil Twyford, tried unsuccessfully to table in Parliament yesterday, also contains information about the Hillside Engineering Workshops and the public should be allowed to know about that.
Last year, 44 Hillside workers were made redundant. KiwiRail put the workshops on the market in April and is considering indicative offers from an undisclosed number of potential buyers. A decision on the sale is expected early next month.
Ms Curran was yesterday prepared to reveal what the business plan said about Hillside, but late on Wednesday night KiwiRail obtained a High Court interim injunction preventing media organisations, including the Otago Daily Times, from publishing the contents of the report.
Another High Court hearing in Wellington, which finished at 7pm yesterday, upheld the interim injunction, but said media could "reasonably and fairly" report discussion in Parliament yesterday about the business plan.
Calling the report "damning", Ms Curran said last night the public's right to know was "much bigger than just Hillside".
"This is explosive stuff. The lid's coming off about the pressure the Government is putting on KiwiRail to cut costs and the impact that is going to have on the network."
In Parliament yesterday, Mr Twyford, Labour's transport spokesman, used question time to outline the broad focus of the report, including $200 million of maintenance programme cuts, a reduction in track renewals, and the downgrading of several sections of railway line.
He cited the report to claim that from 2014 the rail asset would decline, the disruption risk would grow and spending on virtually all rail routes would be run down in some way.
Leader of the House Gerry Brownlee, speaking on behalf of State-owned Enterprises Minister Tony Ryall, challenged Mr Twyford about where he got the document from, saying he suspected it was an internal scoping paper looking at network risks and making clear that KiwiRail needed to invest in its network.
When Mr Twyford asked him if he backed KiwiRail's action to keep the report private, Mr Brownlee said he did "because the media outlet wanting to publish an opinion about the document was going to do so in a most irresponsible way".
After Government MPs blocked Mr Twyford's attempt to table the business plan, Labour distributed copies to the parliamentary press gallery.
Ms Curran has strenuously opposed KiwiRail's decision to buy Chinese designed and manufactured locomotives and wagons, saying some of that work could have been done at Hillside. The 20 locomotives and many of the 535 wagons imported last year have faults which are being repaired in this country.
During question time yesterday, Ms Curran asked Mr Brownlee whether he had been informed by the KiwiRail board of a North Island railway engineer losing his eyesight from flying shards [of metal] while repairing one of the faulty locomotives.
Mr Brownlee did not answer the question.
Ms Curran tabled an email she had received about the incident.