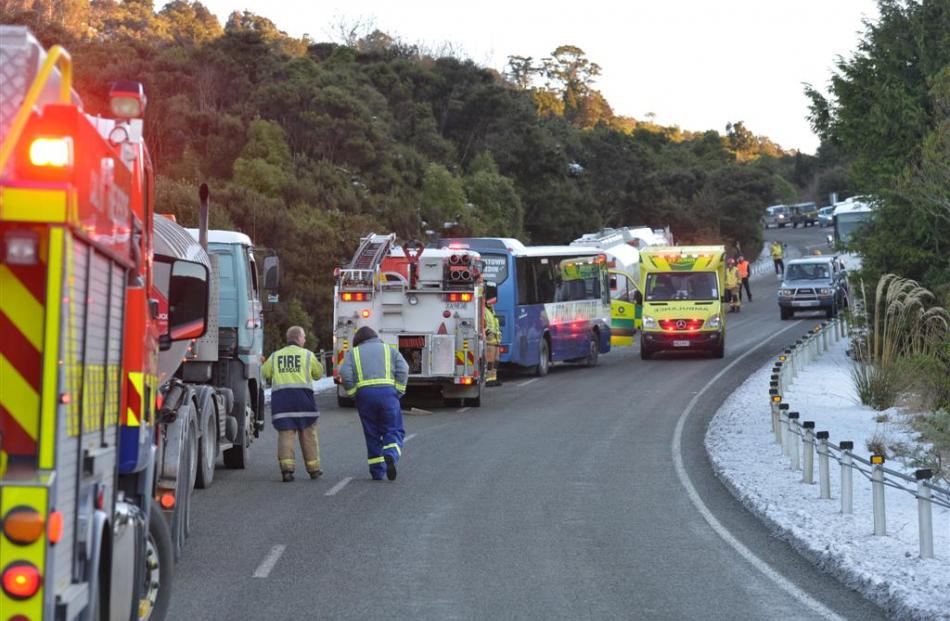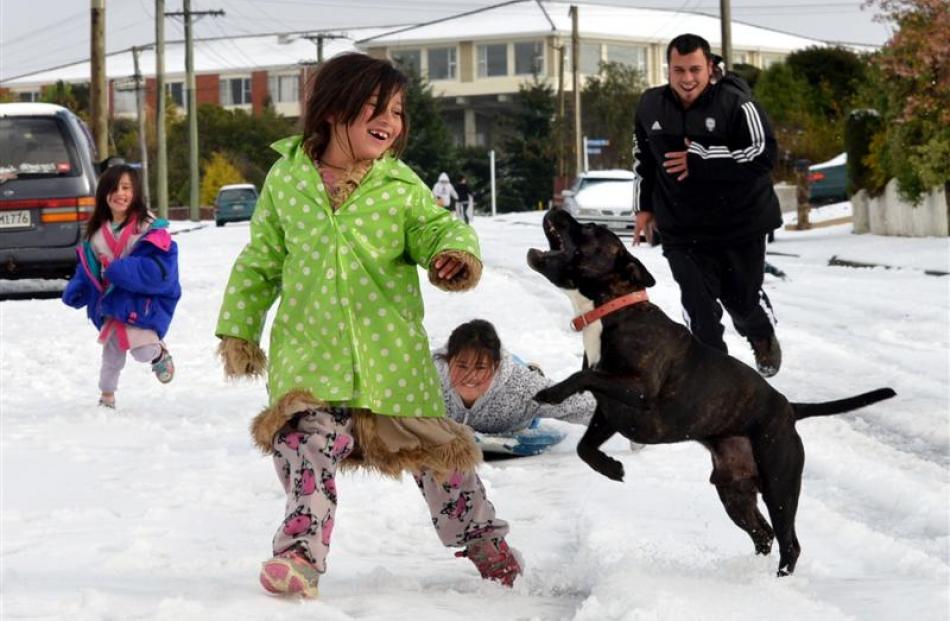 A multi-vehicle crash in frosty conditions caused delays for motorists after blocking Dunedin's Northern Motorway this morning.
A 4WD vehicle slid sideways near the summit at the intersection with Leith Valley Rd and was hit by a petrol tanker.
The tanker was in turn hit by a following vehicle, which was hit by an Atomic shuttle with several passengers on board.
The crash occurred at low speed and no injuries were reported.
Dunedin police have been kept busy with a series of crashes including a car that slid down a bank on Brighton Road and a vehicle that rolled on Portobello Road near the Cove.
Another car slid into a parked vehicle on Union St.
Sergeant Steve Aitken said there were no injuries in any of the crashes but drivers should be aware of treacherous conditions, particularly in shaded areas. 
"Drive carefully, leave a lot of space to the vehicle in front of you and remember, it's your choice to drive," he said.
The icy conditions meant a late start for Dunedin primary schools this morning.
There was a 10am start for all primary, intermediate schools and kindergartens between Mosgiel to Port Chalmers to Waikouaiti.
The ice also disrupted some bus services but they are running normally now.
One state highway - SH87 Outram to Middlemarch - remains closed because of snow.
Widespread ice warnings are in place for the other inland highways. For latest conditions click here
Queenstown District Council says major routes clear of snow but slippery with ice.  
The coldest places in the South were Tekapo, which recorded -6degC overnight, Queenstown -5degC, Christchurch -4degC and the Central Plateau of the North Island was -5degC.
Many roads in the Clutha District are affected by severe icing today.
Edgar Stark Bridge, Mahinerangi, currently remains closed.
Mt Stuart Road at Hillend is now passable with care. 
South hit by storm  
A bitterly cold storm bearing hail and snow swept across Otago yesterday, closing roads, schools and disrupting services, but forecasters say a more treacherous freeze may come in its wake.
Much of Otago woke to a carpet of snow yesterday morning, which police and the New Zealand Transport Agency say could turn to black ice today.
While disruption was widespread, authorities said sensible driving meant there were few snow-related crashes.
Frosts are likely to be heavier inland this morning, with Queenstown possibly dropping to -13degC.
Meanwhile, skifields heralded up to 40cm of snow at just the right time.
The MetService estimated up to 4cm of snow fell in Dunedin, and about 20cm in Central Otago, although depths varied, and Dunedin International Airport reported no runway snow or ice.
NZTA Otago-Southland highways manager Ian Duncan warned drivers to take ''extreme care'' this morning, as yesterday's storm was followed by clearing, cold weather, making black ice ''a real danger''.
The NZTA and police encouraged motorists to allow extra time for travel today.
State Highway 1 from Dunedin to Waitati was closed about 1am yesterday, reopening at noon.
NZTA coastal Otago maintenance contract manager Nicholas Rodger said the agency had about 30 staff and trucks clearing roads.
Dunedin's Northern Motorway would be treated with grit and chemical de-icing agent calcium magnesium acetate (CMA).
Patrols would keep an eye on the road overnight.
Mr Duncan said the agency would keep a close eye on areas prone to icing such as the Kawarau and Manuka Gorges.
Otago Chamber of Commerce chief executive John Christie said the year's first snowfall was a good opportunity for employers to talk to staff about expectations for weather events, such as snow.
Often expectations were specified in employment agreements, but other factors, such as schools closing suddenly, made it difficult for some staff to meet those obligations.
Many employers were ''generous in their response'' to those who could not make it to work, but others docked wages, or staff had to take leave.
Mr Christie estimated Dunedin's daily economic productivity was about $8 million.
''It [income] would certainly would be down on a normal day's trade. Some business can make that up and some can't.''
Improved technology allowed some staff to work from home, and business productivity could be maintained, he said.