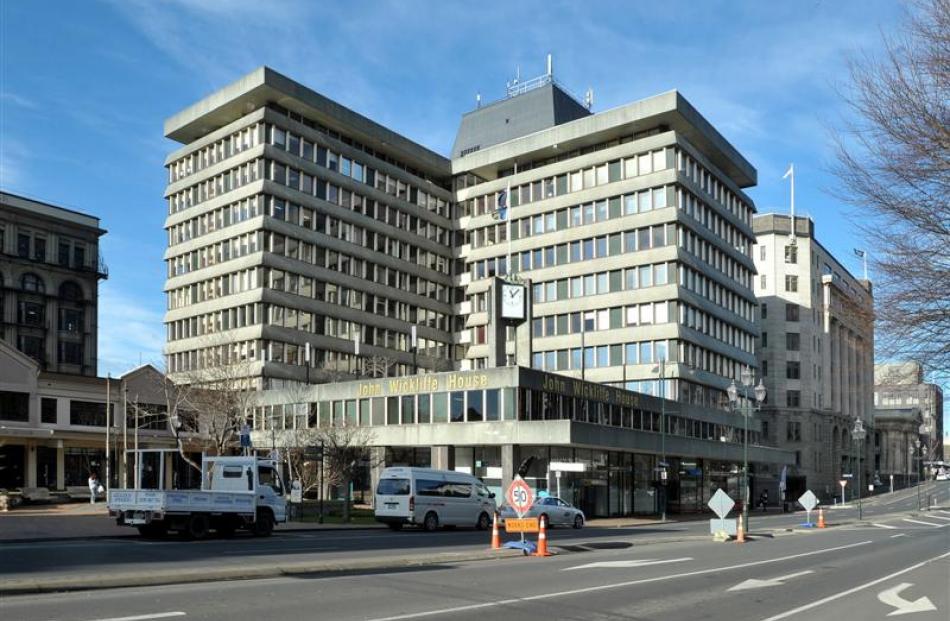 Precast aggregate concrete panels that grace the front of the 1970s-era John Wickliffe House in Dunedin's Exchange have become the latest battleground in the city's heritage conservation debate.
The company that owns John Wickliffe House has applied for resource consent to repair and paint the building, which is in a protected townscape precinct zone.
At the heart of the issue is a plan to paint the panels - which are covered with exposed and polished West Coast serpentine stone - black and grey.
The plan brought a strong response from an architect involved in the design of the building.
Rodney Dalziel responded to the idea of black for some panels: ''Oh good Lord - oh dear, oh dear, oh dear.''
On one side of the debate stand the likes of Otago academic Michael Findlay and archivist and architecture writer David Murray, while on the other are property owners Alistair Broad and Cr Hilary Calvert.
Mr Findlay, a professional practice fellow, said the panels ''contributed largely to the visual integrity'' of a building that was a product of its time, and needed conservation.
But John Wickliffe House owners' representative Tony Offen said: ''We've made a genuine effort, actually, to complement the changing faces of the Exchange.
''Painting is our preferred option.''
Submissions closed last week on the consent and a hearing is set for August 14.
Five submissions oppose the plan, while three are in support.
Council resource consents manager Alan Worthington said the district plan stipulated buildings in the north Princes St-Moray Pl-Exchange Townscape Precinct required consent before being painted.
The work was a restricted discretionary activity.
The design, appearance and cladding of the building had to be considered when changes were made.
South Pacific Resorts Ltd, which has Mr Broad and Cr Calvert as directors, has supported the work.
In its submission, the company said the work should not need a notified consent.
''The city has recently expressed concern about buildings not being maintained.
''The idea is to encourage, not discourage repairs.
''Does someone in planning think Rattray St looks good?''
Mr Offen said plenty of Exchange buildings were painted- Phillip Laing House had dark painted panels, and the historic former BNZ building had been painted.
''I don't think painting is something that needs to be steered away from.
''It's just a question of coming up with a colour or combination that works.''
''In terms of us being able to maintain that exterior facade in a practical way, this is is our preferred option."
But Mr Findlay said in his submission painting of the panels was similar to painting a previously unpainted stone building in a heritage precinct.
''While many buildings were treated in this way in the past, the practice has virtually ceased and emphasis has turned in the opposite direction.''
He likened modifying the building to modifications made to 19th-century buildings in the 1930s, which meant much of their character was destroyed.
Mr Murray said the 40-year-old building was ''not widely appreciated'', but was one of the major construction projects of 1970s Dunedin.
Mr Dalziel, now 81 and living in Whangarei, said the panels were designed to require little maintenance.
''As soon as you do something like painting or make other changes you then create a whole new maintenance issue''.
His mentor Ian Dunn, who designed the building until he fell ill and Mr Dalziel took over, ''went to a lot of trouble'' to source serpentine stone from the West Coast.
Previous Dunedin buildings designed by the firm using similar panels gathered dust, meaning they had to be washed.
The serpentine stone was highly polished, so that would not happen, and should be ''reasonably permanent''.
''I suppose about all you can do is paint it, but I cannot see any real reason to do that.''