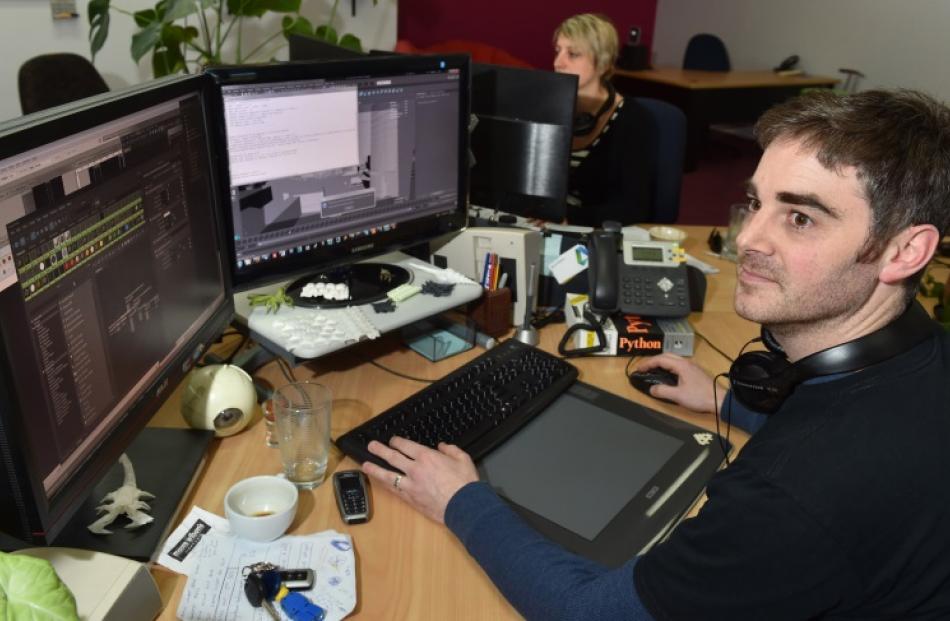 There's a boom in the air. Whether it's on the horizon or already here is a matter of debate, but Dunedin is showing all the signs of a tech industry explosion. Start-ups are appearing constantly, and then expanding. Established companies are leading the world and continuing to innovate and grow. The city's internet infrastructure is rapidly becoming the best in the southern hemisphere. Jobs are being created weekly. International clients are buying Dunedin's tech products, that money flowing from around the world into the city's coffers. And it's only the start. In this Otago Daily Times report, Craig Borley examines a number of Dunedin's burgeoning tech firms.
Video for the prince
Animation Research Ltd, Dowling St
When Prince Charles toured Dunedin this month one of his stops was to Ian Taylor's Animation Research Ltd (ARL).
A collection of Dunedin's tech firms and their innovations were represented during the 40-minute tour. For ARL, those innovations centre on 3-D modelling, video content and clever software, director Ian Taylor said.
Virtual reality content, ball-tracking technology used in international golf and cricket fixtures, 3-D modelling of cities and airports, graphics for America's Cup, Formula 1, and many more.
''And we're doing it all from here. All from out of this building.''
Mr Taylor shared a video with the prince of the ship Dunedin, filled with New Zealand's first boat-load of refrigerated meat, leaving Port Chalmers in 1882 for Great Britain.
''It was story about a ship out of the bottom of the world that changed the economy of the entire country,'' Mr Taylor said.
It was a story that highlighted Dunedin's propensity to be a city of firsts. First university in New Zealand. First art gallery. First medical school.
And now, as the southern hemisphere's first GigCity, Dunedin was on the cusp of a tech-hub revival that would again thrust its ''city of firsts'' reputation into global view.
''We are the first gigatown. It's one of the only things we've done that matches what our forefathers did. And there's a whole new breed of companies coming.''
ARL, which started in 1990, now employs 35 people at its Dunedin headquarters and another 15 around the world.
Mr Taylor said he never considered moving that workforce elsewhere.
''We decided at the beginning this is where we're going to live and the internet will be our highway to the world. So we built an international company from a place we chose to call home.''
The company was shipping its products around the world, he said, but using the internet, not boats, planes and pollution.
''And we've just been handed this amazing tool [GigCity] to help us do that even better. This is the highway to the future. It's the highway to future jobs, high-value jobs for our young kids.''
ADInstruments, Vogel St
There are 70 people working on the top floor of ADInstrument's Vogel St building - software developers, hardware developers, marketing staff, educational content writers.
The company employs another 150 people around the world and is on the hunt for 27 more, four of them for Dunedin.
ADInstruments is one of the world leaders in data acquisition systems, the hardware and software used to record data from scientific experiments.
ADInstruments' products are used in all of the world's top 100 universities.
It started 30 years ago, when founder and chief executive Michael Macknight decided to invent a piece of computer hardware at home while studying computer science at the University of Otago.
Why stay in Dunedin? Mr Macknight replied: ''Why not?''
Wherever the company was based in the world, its global market meant it would always be a long way from most of its customers, he said.
Being based in Dunedin was cheaper, the workforce was stable and the calibre of people ''world class''.
''It's a great place. We haven't left yet because we haven't needed to.''
Being gig-connected meant Dunedin's internet speeds beat almost everywhere else in the world where ADInstrument's offices were based - including the United States, the United Kingdom, and Australia, he said.
''And the university is, of course, crucial for us. It's the source of so much of our staff, and it's a good customer of ours.''
Mr Macknight said he was aware some people believed Dunedin needed to return to the primary industry and manufacturing jobs its economy was recently based on.
But the IT growth the city was experiencing should be celebrated and Dunedin's future as an IT hub was bright, he said.
''You can't wish that life is like it was. New Zealand can't manufacture stuff now. There are other jobs instead.''
The Tarn Group, Princes St
Dunedin video technology company The Tarn Group has added five staff in the past 12 months to its Princes St base, taking staffing levels to nearly 20.
That growth was expected to continue, general manager Graeme Burborough said.
Working on sports video analysis and web-based education platforms with a focus on video, it had clients around the world.
Founded in Dunedin, the company was ''passionate'' about the city, though there were black and white reasons why the city made sense as a tech hub beyond loyalty, Mr Burborough said.
Having the university churn out quality graduates was one, the city's internet infrastructure was another, and being surrounded by ''role model'' firms such as ADInstruments and ARL was ''inspiring''.
''Certainly it has what it takes to be a smart city. And I think it already is.''
MixBit, Princes St
What does one do when one sells internet video website YouTube for a three-way share of $1.65billion?Probably many things, but for YouTube founders Chad Hurley and Steve Chen one of those things was to set up a Dunedin office for their new project, MixBit.
Although it has another office in San Francisco's Silicon Valley, MixBit is run almost entirely from Dunedin. Its Princes St office is staffed with 11 Dunedin people and that number will keep growing, lead programmer Joshua Garner said.
MixBit is a video app allowing people to create videos with content from multiple sources stitched together by clever software to make a cohesive whole.
Its Dunedin team was kept busy, Mr Garner said.
''We're doing all of [MixBit] from here now, or most of it. We do the development of the Android and iPhone apps. We do the website.''
Staff competed for space in the impressive open-plan office with pool and table tennis tables, bean bags, a significant Lego collection, dozens of computers, giant well-stocked lolly jars and a kitchen filled with free food.
''In Silicon Valley, staff are treated very well,'' Mr Garner explains, ''because of the level of competition.
''So here we get pretty much free food, free drink, we get looked after.''
Added to that was the founder of YouTube on video link ''all the time'', which was ''a pretty big deal'', he said.
But there was no question the Dunedin staff were worth the investment, Mr Garner said.
''You compare the United States employees to the New Zealand employees and the quality of the people coming out of Otago [university and polytech] is on par and sometimes better than the people coming out of the big universities in America.''
That was driving what Mr Garner said could be the start of an IT boom for Dunedin.
''It's happening now. The talent's here. The fast internet is awesome. Gigabit speeds are just awesome.''
NHNZ, Princes St
One of the oldest and biggest names in Dunedin's tech industry, NHNZ began life as the natural history section of TVNZ.
It was sold in 1997 and is now a content production company, producing material for television, tablets, smart phones and computers.
Like most of Dunedin's tech industry, its major market is offshore, but with more than 100 people at work in its Dunedin headquarters, it delivers very real benefits to the city.
And its Dunedin workforce, like Dunedin's tech industry, was continuing to grow, managing director Kyle Murdoch said.
''I think what we're seeing is the big investors in the local community, that's the university, the council, the chamber of commerce, a lot of those big bodies see a niche for Dunedin to become a smart city, as a place that can attract companies who are using IT as a means to an end.''
Now it was time for the city to realise what it had, he said.
''I think that Dunedinites are not very good at self-promotion. We're quite humble. And we need to make a bit more noise about what we're doing.''
Dunedin had everything a city needed to become a true technology hub, he said.
''You have the university so you have graduates. You have labour right here. And lifestyle - you look at any of the tech hubs around the world and people in the tech industry want a good lifestyle. They don't want to live in a big dirty city.''
The quality of the city's schools was ''world class'' and effectively free, he said, something competing tech hubs around the world simply could not match.
Dunedin's infrastructure was also a big selling point and the rollout of gigabit internet had made the city a ''brilliant'' environment for tech start-ups.
Education Perfect, George St
Craig Smith was still an Auckland high school pupil in 2003 when he developed a game-based online learning platform called Language Perfect.
He honed it during his Otago University days before officially launching in 2007 with his brother Shane Smith.
Now called Education Perfect, it employs more than 30 full-time and 50 part-time staff at its Dunedin headquarters and the firm is expecting further growth, Mr Smith says.
It was used in more than 1000 schools worldwide by more than 400,000 students who had answered more than 1billion online questions, he said.
''I think it's reasonable to say that there are no limits to what's possible to achieve in Dunedin. With easy access to some of the brightest young minds from the University of Otago, it's a great place to be.''
Dunedin's gigabit rollout was another coup for the city, he said.
''The internet highway is how we connect to customers around the world. So the faster the speeds, the more immediate connections we can have with our users.''