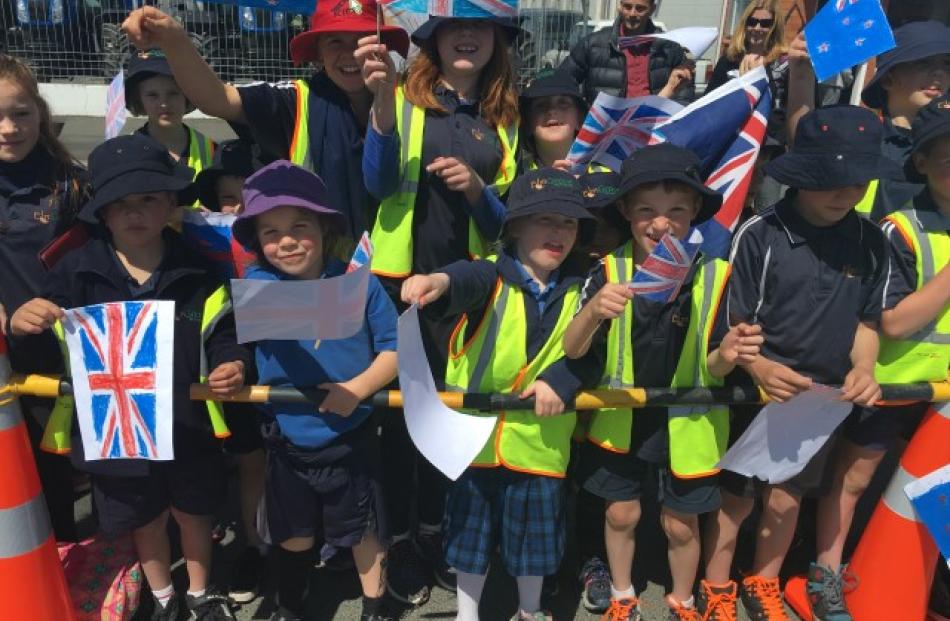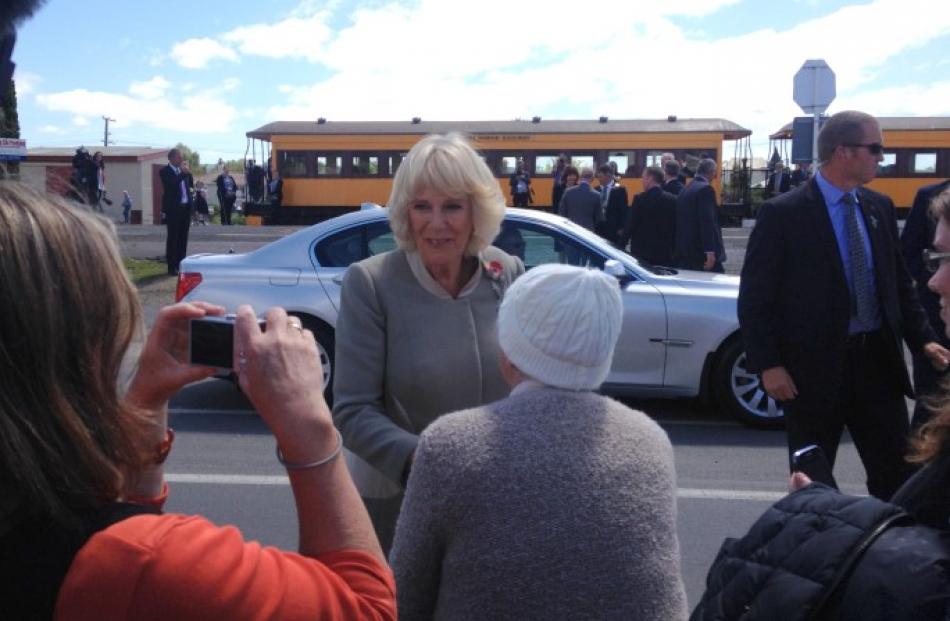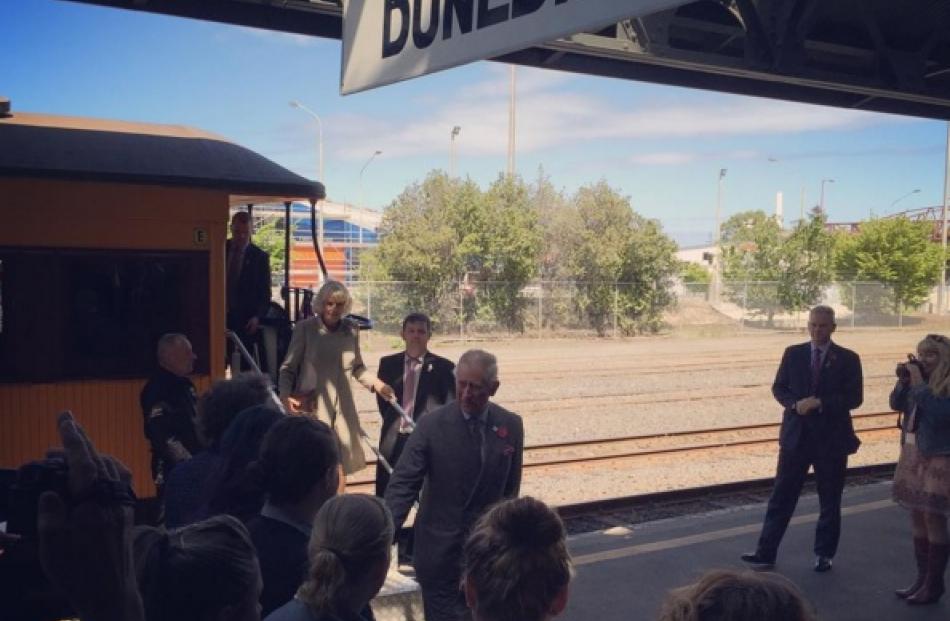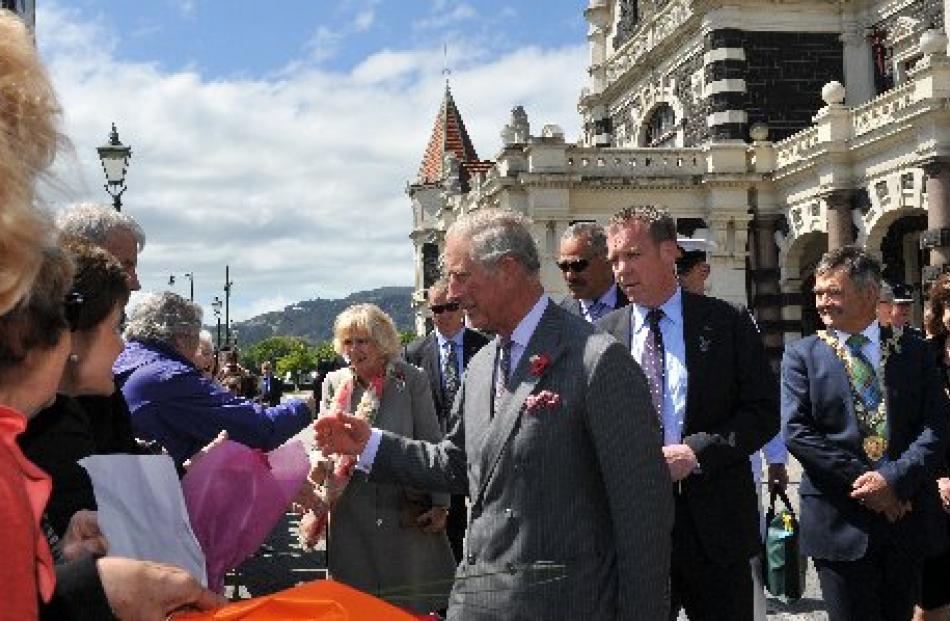 Prince Charles has had a brush with a bumble-bee and a tuatara at a conservation sanctuary near Dunedin.
The Royal Couple visited the Orokonui eco-sanctuary as the last event before their return to Wellington of a busy second day of their visit to New Zealand.
The visit coincides with the national Conservation Week.
During a short walk around the sanctuary, the Prince was shown and then held a young tuatara, an ancient lizard.
A bee chose the moment to surprise the Prince, landing on his inner leg and he quickly returned the lizard to its box.
Earlier today, Prince Charles and the Duchess of Cornwall arrived at the Toitu Otago Settlers Museum in Dunedin, and were welcomed with a haka.
Prof John Broughton, Associate Dean (Maori) of the University of Otago noted the success of the All Blacks at the Rugby World Cup when he welcomed the couple.
"With that in mind, Sir, I could not let the moment pass without presenting you with a World Cup pin.''
After a waiata, the royal couple were led by Mayor Dave Cull through the museum to the Smith Gallery, where portraits of early settlers cover the walls.
On the way the pair expressed interest in a wharerau on display.
In the gallery they met descendents of those whose portraits were on the walls.
Prince Charles asked about a digital display that allowed museum visitors to find out more about the early settlers in the photographs.
About 150 people waited for the couple outside the museum, and clapped and waved as they left. 
Prince Charles went on to visit Animation Research, the pioneering Dunedin firm behind the first live 3D sport graphics.
Outside he was met by the man behind it all, Ian Taylor.
Inside he shook hands with staff and apologised for interrupting their day.
In the office workspace - a room filled with computers and other gadgets - the prince was shown a video about Dunedin, which explained how the city is becoming a hub for innovation and research.
The video also explained how some of Innovation Research's most recent work has been used around the world in high performance sports like Forumla One and yachting, as well as in architecture projects as part of the Christchurch rebuild.
The prince was given a cup of tea while staff members talked him through some of the firm's recent work, including live cricket graphics from the cricket test at the Gabba.
He also got to try out a virtual reality Oculus headset which was used as part of the recent World Series yachting event in Bermuda, which put him on board an AC 45 catamaran.
He also tried on another headset which took him on a virtual ride on a jet boat on the Shotover River.
"I'm not going to look for too long," he laughed.  
Prince Charles then got to get behind the wheel of a virtual America's Cup yacht on a high tech simulator.
With the help of an expert navigator, he successfully sailed a Team New Zealand catamaran around a course on Auckland's Waitemata Harbour.
Leaving Animation Research, Prince Charles thanked the person who made him a cup of tea, but admitted he didn't get a chance to drink it.
"I was worried I'd spill it on someone's computer terminal," he said.  
During his visit to Animation Reserach, Camilla, the Duchess of Cornwall, spent an afternoon meeting with esteemed members of the University of Otago and several of our nation's top and aspiring authors and poets, as she asserted her great passion for literature and the arts.
After being led into the Council Chamber of the University of Otago by pipe Major Liam Kernaghan, the Duchess mingled with guests, discussing her great love of books.
Lynley Dodd, creator of the Hairy Maclary book series said the duchess immediately recognised her from their previous meeting in Auckland.
"Last time we met it was at a show in Auckland where she and the other guests had to sing along to Hairy Maclary, so I suspect she was rather pleased she didn't have to do that today, particularly as I believe she has a cough at the moment!"
The duchess described Dodd as "author of my grandchildren's favourite books" and joked with her that her grandchildren squabble over them.
Camilla asked Dodd what she had been doing recently and when Dodd explained her time was mostly taken up by emailing, the duchess said she "didn't care for cell phones and emails," which the pair shared a laugh over.
Later talking to Donald Kerr, Special Collections Librarian at the University, she described herself as "a Luddite" when it came to computers and technology, very much preferring the printed word.
Nervously waiting to perform was 19-year-old musician Jake Cropley whom performed his award winning song, On Forever Ye Go. His nerves certainly didn't get the better of him, as he gave a performance the duchess said she thoroughly enjoyed.
His greatest fan in the room however, was his grandfather, David Griffiths who said the whole experience had made him very emotional.
"I certainly teared up," he said. "It was just wonderful."
The duchess then addressed the room, remarking "You're a hard act to follow, Jake."
Camilla said how pleased she was to be back in New Zealand for her second visit. "Especially here in Dunedin, UNESCO City of Literature, a place where writers, books and culture thrive. After all, there can't be many cities where you can get a poem every time you get a parking ticket!"
The Duchess was referring to Poetick, a creation by Ben Alder that shares poetry through specially designed parking meters. Alder said the duchess remarked to him "send one over to us!"
Camilla then went on to discuss one of her great passions - books - and how this great love came to be.
"I was so lucky to have a father, an ardent bibliophile, who read to us night after night throughout our childhood. He opened the door to that whole new world of adventure, excitement, joy and sadness. That world of books has remained a life-long pleasure."
Royal couple draws crowd 
Dunedin turned on a sunny day and crowds turned out to welcome Prince Charles and his wife Camilla, the Duchess of Cornwall, to the city.
The Royal couple, who winged their way down from Wellington after a couple of engagements in the capital this morning, arrived on time at Dunedin airport to be greeted by just a handful of supporters.
However, local enthusiasm was more in evidence in Mosgiel, where up to 700 people, many of them schoolchildren, were waiting at the railway station to catch a view of the pair.
After exiting their plane at the airport, Charles and Camilla paused on the stairs to wave to the small crowd, Charles in  grey suit, Camilla in a formal beige dress and matching jacket, and a floral headscarf.
The pair then stepped into  a waiting BMW motorcade and were whisked to the Mosgiel Railway Station where they were greeted by Dunedin Mayor Dave Cull, who is accompanying them on a train to Dunedin Railway Station.
The couple made a brief stop to greet some of the assembled crowd before boarding the train and making their way to the back to wave goodbye to the delighted members of the public. 
The couple arrived at Dunedin Railway Station and were greeted by hundreds of cheering people who are lining the footpath between the station and Toitu Settlers Museum.
As the couple emerged on to the road in front of the station flags were jangled, hands clapped, and neatly tended flower beds crushed in the surge to get close to the action.
Dunedin woman Lesley Hayde, 69, was lying in wait for the royal couple as they shuffled along the blockade. 
Mrs Hayde, draped in union jack flags, managed to grab the Prince in a bear-hug and plant a wet kiss on his cheek.
"I shouted, 'Charlie, Charlie give us a kiss' and he said 'I don't know whether we should kiss','' she said.
"So I just grabbed him and gave him a kiss. And then I kissed Camilla. That's a great nearly 70th birthday that. It was brilliant.''

Prince Charles and the Duchess exchanged pleasantries and shook hands as they were moved along the line towards Toitu, where they will spend the next while.
Prince Charles will later visit Animation Research while Camilla attends a literature event at the University of Otago.
The couple will then visit Orokonui Ecosanctuary before returning to Wellington.
Wellington engagements
Prince Charles' visit to a Wellington secondary school today started with a fearsome haka and finished with a round of applause.
Selfies with the prince were a no-no, but many Tawa College pupils snapped him on their mobile phones as he made his way down rows of teenagers out of class for a royal glimpse. He said hello to some, while others got a handshake.
"I touched his hand. I'm going to sell it for, like, a million dollars," said one boy.
The school's head pupils Joshua Nightingale, 18, and Briana Boele van Heasbroek, 18, greeted Charles and then showed him around the school.
Afterwards, Joshua said it was an honour to escort royalty.
Briana said the prince was "very chatty" and "very friendly".
"[He] wanted to say hi to everyone, which was just amazing."
Joshua said Charles was an "awesome person". "He's very nice, kept the conversation, made it less awkward for us, made us less nervous."
As they prepared to welcome Charles there was much debate about whether they should curtsy.
In the end, the pair settled on a handshake greeting.
"We knew we couldn't go wrong," Joshua said.
An amazing #haka at #TawaCollege! #RoyalVisitNZ #AllBlackEverything @ClarenceHouse pic.twitter.com/cC2pcMm6Lj

— Governor-General NZ (@GovGeneralNZ) November 4, 2015
After the prince was welcomed he was taken to the assembly hall, where he was greeted with a haka. A pupil said a few words in Maori and the choir performed before it was off to the school music unit.
Pupils played tunes in the background as Charles had a look at economics scholars showing off a range of organic shower and bath products. In class, the pupils learn the ins and outs of running a business.
Next it was off to the computer lab and then the sports gym, where pupils practised indoor cricket and rugby.
The prince asked about the difference between indoor and outdoor cricket and learned the indoor variety is played on artificial turf.
Outside Charles saw more sport demonstrations and a container showing off wool products.
After posing for photos with the whole school, he was off.
Meanwhile, dozens of students gathered to welcome the Duchess of Cornwall this morning at Te Whaea in Wellington, as the royals continued their tour of New Zealand.
Te Whaea or "The Mother" is home to Toi Whakaari, the national drama school, and the New Zealand School of Dance. The school embraces tikanga Maori - Maori process - in its teachings.
The Duchess of Cornwall was escorted into the Te Whaea theatre, where she watched a classical ballet performance, of the Entree from Paquita.
The Duchess then met some more of the performers at the school.
The Duchess of Cornwall visited the Te Whaea dance and drama school in #Wellington this morning. #RoyalVisitNZ pic.twitter.com/Bb9E9cciP4

— Clarence House (@ClarenceHouse) November 4, 2015
Student Jack Barry played the guitar for the performance of Pungawerewere, a song about a spider weaving a web and making connections.
Barry graduates next week with a Bachelor of Performing Arts, majoring in stage and screen.
He said he was very happy the school had welcomed Camilla, as her visit would highlight Toi Whakaari and The School of Dance.
"It's pretty awesome ... the arts are crucial to everyday life."
He said Camilla could have gone just about anywhere, so the students were honoured she chose to meet them.
Students Hannah Grace, Remma McArdle and Jay Hadfield also performed Pungawerewere.
The three students said Camilla didn't give much away, but they could tell she seemed pleased by the performance.