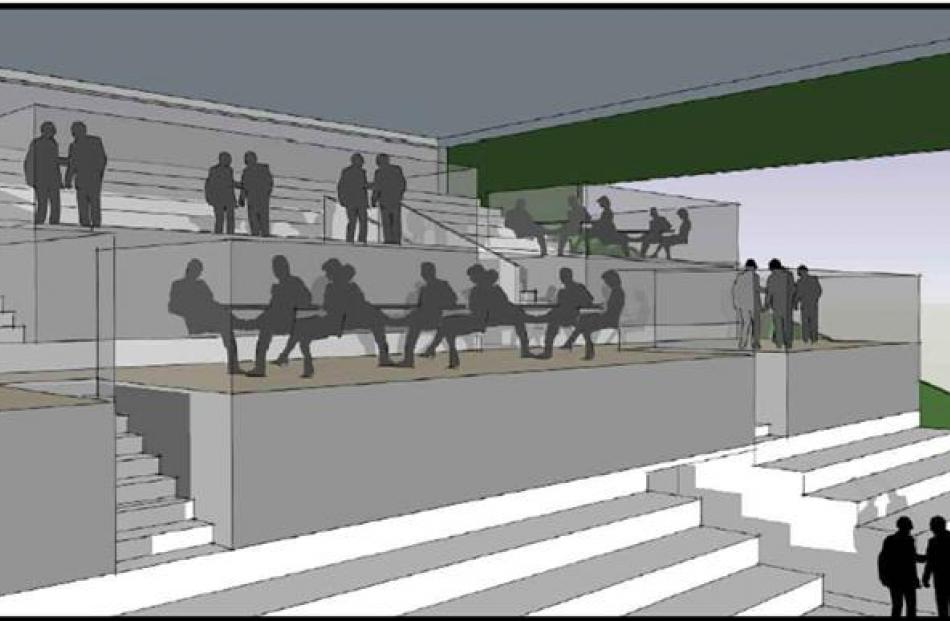 To use a racing phrase, the Forbury Park Trotting Club is in an awkward - but not hopeless - spot.
Now the question remains - will the club hit the line with purpose or drop out to last?
The future of the club was discussed at a presentation given by club and industry officials at Forbury Park yesterday, detailing the work needed on the buildings, the stabling area and other infrastructure.
What is inescapable is the need to complete $600,000 of work to meet health and safety and regulatory requirements, which includes piping, improvements to the members' stand to meet increased fire regulations and refurbishing of the Plunket St stable block.
But the club's management is planning to turn the challenge into a chance to improve the facilities at the track.
Club management put forward several proposals, including a $1.225 million plan which includes the $600,000 improvements and another $625,000 towards painting, another pumping station, a winning post, car park repairs, upgrade of the forecourt in front of the members' stand and other improvements.
Forbury Park Trotting Club president Peter Gillespie told the 70 people gathered in the members' lounge the club had battles on four fronts - ageing infrastructure, increase in compliance costs as as result of changes following the Pike River mining disaster and the Canterbury earthquakes, a decline in gaming funds and a largely uninterested membership of 209 members.
The club's longer-term ''dream vision'' - totalling $6.13 million of improvements, upgrades and additions in an ''ideal world'' - was presented by the club's board of management chair John Henderson.
Funding for the project, starting with the $600,000 worth of necessities, would come from club funds and income, land sales, grants, sponsorship and a racing safety and development fund.
The presentation included contributions from New Zealand Racing Board head of industry liaison Martin Burns, who outlined the problems facing the industry across the country, including declining turnover and field sizes.
''The industry has avoided making the hard decisions,'' Burns said.
Harness Racing New Zealand chief executive Edward Rennell outlined statistics which showed 10% of the horses trained in the South Island are trained in Otago and North-Central Otago.
Of the 2066 horses that started at Forbury Park last season, only 739 were from Otago, with another third coming from Canterbury and the remainder from Canterbury, Southland and Mid-South Canterbury.
Gillespie told the Otago Daily Times after the meeting the club needed to work in more with other racing clubs in the lower South Island to ensure its survival.
''The club has to make some big changes,'' he said.
''Rather than us in five or six years having a crisis meeting, we're planning now to how we're going to change things and make necessary changes.
''We have to work together south of the Waitaki. We've certainly got to engage with Southland more - only 47% of trainers down there race here and they're not racing anywhere else over winter.''
Henderson told the Otago Daily Times some of the work had to be done in order for the club to continue after the next five to 10 years.
''It's something that's got to happen, and for it to happen, we've got to have the right governance structure in place to make sure that we spend time on what is important and not peripheral issues.''
The governance will be reviewed in the next two months to establish a stronger board of management.
Gillespie will again put forward a proposal he made last year which would see a governing body comprised of the club president, the vice-president, and two club-appointed members elected at the annual meeting, along with four directors appointed by a committee made up of three people - one nominated by the New Zealand Racing Board, a nomination from Harness Racing New Zealand and the Forbury Park Trotting Club president.
His efforts to get a new governance structure adopted last August fell just short of the 75% approval from club members.
''It's an iconic venue and deserves good governance,'' Gillespie said.
''What some of the club members have missed entirely [is] it's not about managing a club any more, it's about managing a racing venue. That's a big difference.''
---
In an ideal world
$6.13 million wish list
• Health and safety requirements: $600,000
• Other improvements in next three years: $625,000
Extras
• New stables building: $2.25 million
• Track manager's office and ablutions: $80,000
• Track access and assembly area: $135,000
• Track upgrades: $90,000
• Champions Lawn: $45,000
• Car park reshaping and sealing: $100,000
• Additional barn capacity: $450,000
• Upgrade float park: $375,000
• Sponsors' boxes in members' stand: $350,000
• Lift access to members' stand (if required): $1,030,000.
---