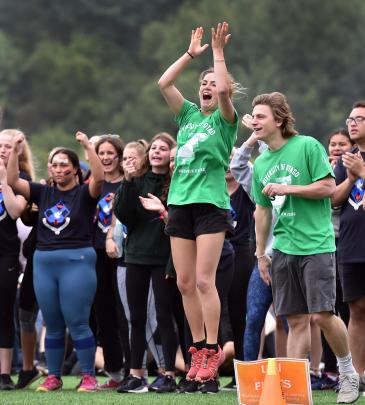 University of Otago first-year students leap-frogging across Dunedin's Logan Park was a sight to see.
It was, of course, not just for fun, but part of Orientation Week's Collegiate Sports Day, which began with a giant relay between residential colleges, residents of university-owned flats and others involved with the colleges.
And it was no ordinary relay.
Students skipped, ran backwards and leap-frogged across the field, in an event modified to mimic movements they would have made as children.
It was the first time such activities featured an Otago University inter-college competition.
Co-ordinator Daniel Wards said the changes were made to ensure the relay was not ''elitist'' and was open to everyone.
He said the sports day was also a good way for first-year students to cement friendships.
''The students have just arrived and they do not know many people yet, so it is a great way to create that bond.''
Student Oscar Noble-Adams (18), from Salmond College, was excited, but surprised that his team was the first residential college home.
''It was kind of last-minute. We had the team about three minutes before we started.''
Games of volleyball, netball, touch and football followed the relay, which aimed to get first-year students involved in some ''healthy competition''.
Sports Day was previously held in Opoho, but was staged at Logan Park this year to show-case what the Unipol Recreation Services had to offer students.