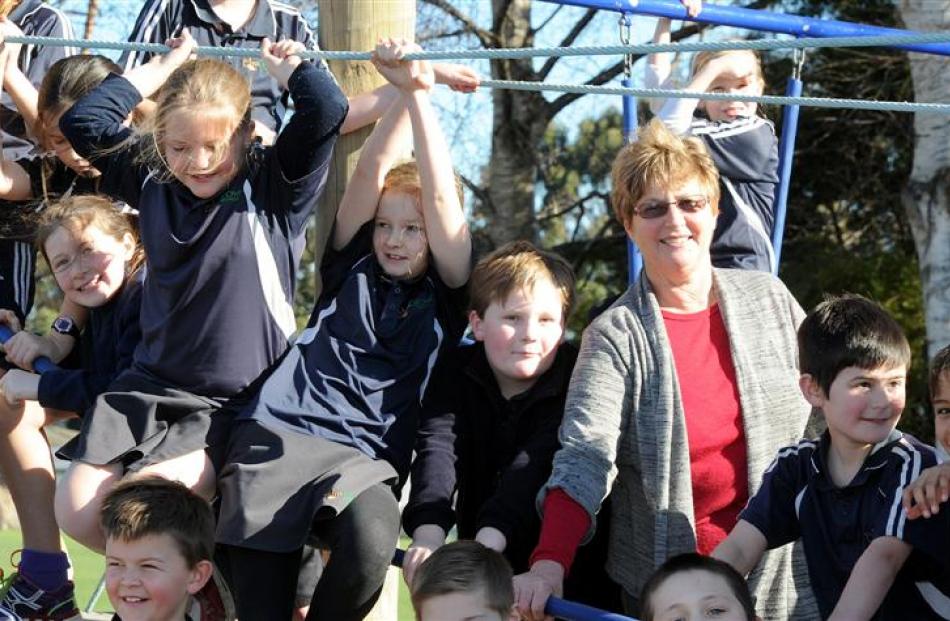 When Jenny McDonald came to the Taieri 45 years ago as part of a ''wee look'' around New Zealand, the last thing she expected to do was get married and still be there today.
She has spent her entire working life on the Taieri as a teacher at Outram School, and later as principal of Wyllie's Crossing and Elmgrove Schools.
But she has decided to call it a day and has announced she will be retiring at the end of this year.
Born and raised in Northland, she came from Whangarei to Outram in 1969, where she began her teaching career at the school, and later her new husband ran the local shop.
Mrs McDonald said she stayed for so long because she became part of the fabric that made up the community.
''They became my extended family - especially in a place like Outram, where everybody knew everyone and because my husband ran the local shop.
''You know everybody.''
While forging a career as a well-respected teacher, Mrs McDonald also worked hard on her career as a New Zealand hockey representative.
A member of the New Zealand hockey team between 1971 and 1986, she was its captain for six years and a member of the team that competed at the Los Angeles Olympics in 1984.
Mrs McDonald was also selected to compete at the 1980 Olympics in Moscow but did not attend when New Zealand boycotted the Games.
''When I finished my hockey career, I decided I needed something else.''
So she went to Wyllies Crossing School in pursuit of her first principalship.
She was acting principal for the first three terms before being appointed as principal.
However, the school was closed in 2004 as part of the Taieri schools review.
''At that stage, Wyllies Crossing, Melville Park and Mosgiel West were lumped together and we became Elmgrove School, and I became principal and we've been here ever since.''
Despite not playing hockey any more, she has continued her association with the sport as coach of the Otago senior women's team and the New Zealand under-21 team and, more recently, in administrative roles.
This year, in her 11th year at the school, Mrs McDonald said she felt the time was right to retire.
The school recently had an extremely positive Education Review Office report and was in good heart, she said.
''I've got to the stage where I would like some more time for myself. I'd like to throw away my watch and not go by school bells.
''I've always said, I'll only leave a place if it is the best it could possibly be.
''Looking forward, the new staff can take it forward to new places. I think it's important that someone new with the energy comes in and does that.''
Despite her announcement of retirement, she has made one thing clear.
''I've retired from my present job as a teacher and as a principal, but I'm not retiring from life.
''I'm leaving myself open to lots of things.
''I'll have no trouble filling my spare time. At this stage, I just want to take a break and enjoy having some time and space.''
Mrs McDonald said the thing she would miss most about her job was the children.
''Every day brings something new and something unexpected, and something that brings a smile to your face.
"When you work with children, that's just the way it is.
''I think at the end of the day it's the children, watching them grow and watching them achieve, and for many years later, following them and seeing where they head and what they do.
''It's very satisfying.''