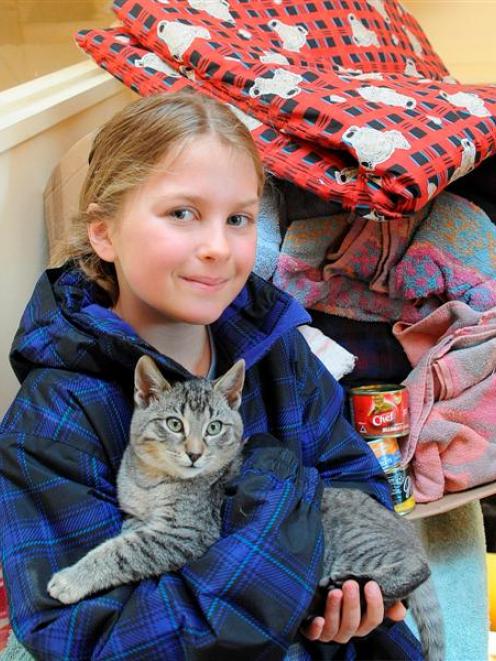 Boxes of food, bedding, towels and old jumpers exchanged for a couple of cats has a Wanaka Primary School pupil and SPCA Otago staff smiling.
Neve Faed (8) delivered hundreds of dollars worth of donated goods to SPCA Otago's Dunedin base yesterday and left with two tabbies.
The Wanaka youngster and two classmates, Samara Goodall (8) and Georgie Bruce (8), rallied support for the animal charity by organising a mufti day when pupils donated goods that are in demand at the SPCA.
SPCA Otago executive officer Phil Soper said cat and dog food, old towels, blankets and jumpers were desperately needed.
Half a dozen large boxes of food and materials donated in Wanaka were delivered by Neve to the SPCA, where she also took the opportunity to select a feline friend.
A cat for her grandmother was also adopted by the family.
Neve said she had wanted to somehow help animals and, with friends, came up with the idea of donating to the SPCA, which did not have a shelter in Wanaka.
Permission for the fundraiser was granted by the school's principal.
Mr Soper said without community support, and particularly donations of food and bedding, the charity would cease to exist.
"A donation like this is massive. We hope that more people do it because it's a great help to us," he said.
Neve challenged other school pupils to organise similar fundraising initiatives for the charity.
About 60 cats and kittens, nine puppies and half a dozen dogs at the Opoho facility are awaiting adoption.
SPCA Otago maintained an 80% "save" rate of its animals, prompting national recognition, Mr Soper said.
In May, at a national SPCA conference, the Otago charity was awarded certificates for increasing the number of animals it saved by 10% in 2011 and for achieving a save rate of more than 80% in the same year.
It was one of five SPCA branches, of the 48 in New Zealand, to receive achievement awards.
"We've been operating for 130 years now, and the only reason we continue to operate is the support from the community," Mr Soper said.