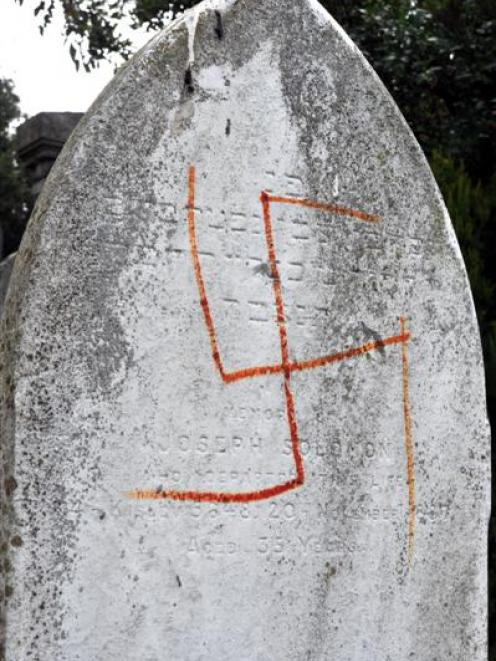 A swastika was painted on a headstone and two other headstones were knocked over and broken in an anti-Semitic attack at a Dunedin cemetery.
Police were called to the Jewish section of the Southern Cemetery on Saturday, following the discovery of three vandalised graves.
Constable Greg Marsden said two headstones had been hit with so much force that they ''have broken in half''.
The third headstone had a swastika painted on it.
''It is a desecration,'' he said.
''I would prefer to think it wasn't [a racially motivated attack], and that it was just a childish act ... but it is a fairly nasty incident.''
Police were treating the matter seriously and were appealing for any witnesses.
''We would love to catch up with the person who has done it.''
Andrew Spiegel, of the Dunedin Jewish Congregation, said the Dunedin Jewish community was ''extremely saddened''.
''We find this type of vandalism not only to be ignorant and stupid, but also state that the underlying menace behind it is disturbing and worrying.''
He would not want to see it repeated on the graves of anyone's loved ones, ''no matter what their religion'', and hoped police were able to catch those responsible to see them ''brought to justice''.
The New Zealand Jewish Council had also been contacted about the incident, and ''shares our concern and disgust at this criminal act'', he said.