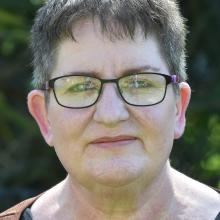 Dunedin hepatitis C campaigner Hazel Heal has welcomed Pharmac's proposal to fund a new treatment for the disease.
About 43% of hepatitis C patients are unable to take the drugs currently funded by the Government's drug buying agency.
That led  Ms Heal to take matters into her own hands and found a "buyers club" for generic drugs able to be used by more hepatitis C patients.
Pharmac began consulting on one "pangenotypic" medicine this week, which the agency hoped would mean all New Zealanders could access treatment, regardless of which type of hepatitis C they had.
"I welcome the widened access to medication. This will help many thousands of people," Ms Heal said.
"There has never been a better time to get tested for hepatitis C - being cured is life-changing."
An estimated 20,000 people have hepatitis C - a severe liver disease - with about 1000 new cases a year.
Medical researchers estimate up to 30,000 New Zealanders have undiagnosed hepatitis C.
Ms Heal promotes the "butterfly campaign" encouraging people to get tested for the disease.
"The idea behind this butterfly campaign is one of metamorphosis, rising free of hep C - as individuals, communities or countries."
Ms Heal was one of the speakers at yesterday's hepatitis C summit in Auckland - timed to coincide with World Hepatitis Day, July 28.
Also speaking was Health Minister David Clark, who threw his support behind Pharmac's proposal to fund new drugs.
"Subject to the outcome of the consultation process, this proposal is a positive development that would increase access for people with hepatitis C," Dr Clark said.
"It is also important to help ensure that New Zealand can achieve the World Health Organisation's goal of eliminating viral hepatitis as a major public health threat by 2030."
Southern District Health Board's Margaret Fraser - a gastroenterology clinical nurse specialist - said the organisation  promoted testing for hepatitis C.
"It's thought these (undiagnosed) people are the 'working well', aged between 40 and 65 years, who see their GP infrequently (if ever). They're at risk of having developed significant and advanced liver disease before being diagnosed.
"Our message is that testing saves lives - if you're at risk of hepatitis C, talk to your doctor about getting tested."