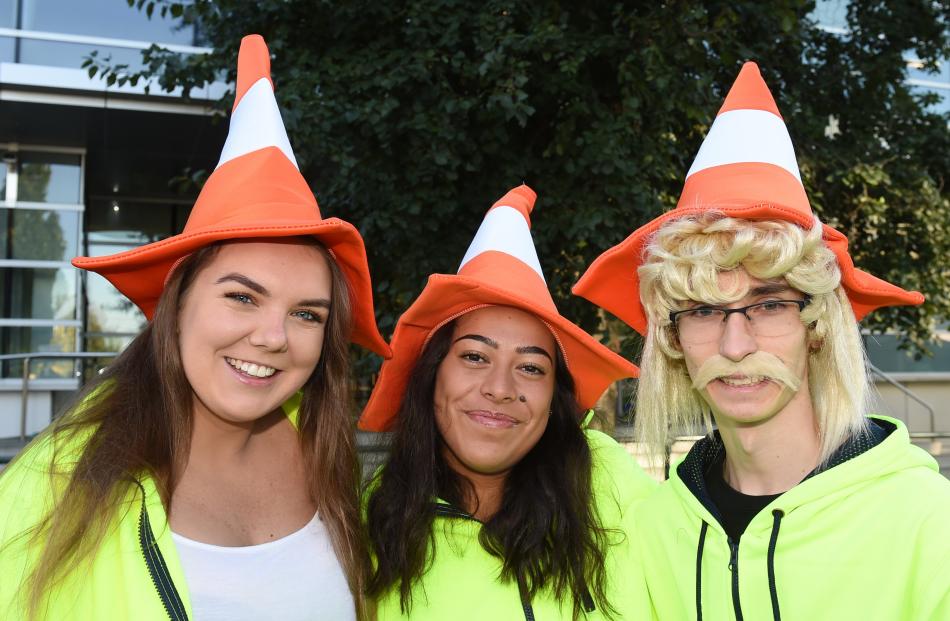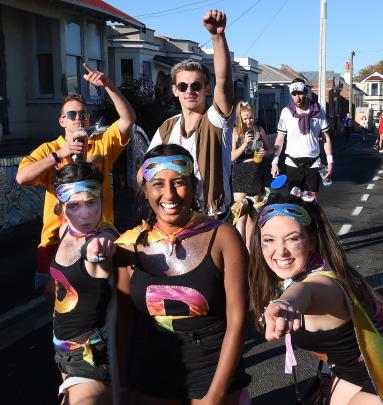 The sun wasn't even over the yardarm... in fact, the sun had barely risen, but that was not going to stop revellers at the annual Hyde St party from getting into the spirit of the annual Dunedin event.
The party officially began at 9am on Saturday but Jack Manning, resident of "Country Calendar" at No 15 Hyde St, was woken at 5am by festivities which had already started ... or possibly had just kept going right through the night before.
This was his first year living in Hyde St but his second Hyde St party, he said.
"We were just looking for the best flat, this one showed up, and the fact that it was on Hyde St was just a bonus because this is a pretty amazing experience," the marketing student said.
Mr Manning had already put his degree to work, his flat having secured sponsorship for the party from a vaping company - many Hyde St residents have similar deals with firms looking to leverage off the party.
"We have pretty much got autonomy with what we do regarding decorating our flats," he said.
"It's a bit cold, so not all of us have got dressed up yet, but we'll all be getting stuck into it later on."
A sell-out crowd of 3600 students descended on Hyde St to join Mr Manning and his neighbours for the street party, one of the main events on the social calendar of University of Otago students.
Revellers usually dress up for the occasion, with plenty of angels and devils, surf lifesavers, hip-hop stars, hippies and tennis stars lining up to get in.
Entry to the party closed at 1pm, with the event finishing at 6pm . . . or later for anyone with enough stamina.
An army of volunteers were staffing free food and water stands, with police, Fire and Emergency NZ and St John staff ready to deal with anyone who partied too heartily.
Residents and the Otago University Students Association collaborated to clean up the street yesterday.
Police reported a busy day but only three people were arrested, for fighting, disorderly behaviour and a minor assault.
A Dunedin Hospital spokeswoman said the emergency department treated 17 patients from the party between noon on Saturday and noon yesterday.
"The majority were alcohol-related. There were some today [Sunday] that have represented from injuries that occurred at the party."
She said it did not have a significant impact on the department's operations.
"From what I've heard, the party has been better managed than in previous years."
OUSA president James Heath said he was delighted the event "went off without any notable incidents".
"Logistically, the event was sound and thanks are once again to police, St John and Fenz for their valued support."