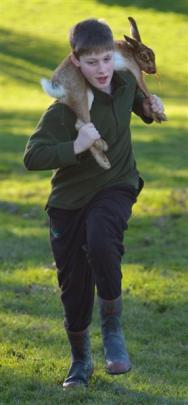 High-flying ducks made it difficult for young hunters to bag the bounty required for the Taieri College Hunting Competition.
Morgan Trafford (14), of Mosgiel, said she bagged a possum, hare and duck at Lamb Hill, Hindon in the weekend and the animals were weighed at Taieri Rugby Club yesterday.
The duck was the most difficult to bring down because it was flying high in windy conditions.
''They can hear you from miles away,'' Morgan said.
She planned to eat the hare and duck but would bypass the possum. Taieri College deputy principal Mike Newell said the competition was a fundraising event for the college's sports council to pay for sporting activity, including getting pupils to tournaments and buying sports gear.
Past fundraising efforts included a golf tournament, a rugby tournament and an adult social event.
''It's the first time we've done a hunting competition.''
Mr Newell said the competition was a ''win-win'' because it raised money to get children active by getting children active.
In the three days from Friday, the 30 adult competitors brought down nine boars and stopped five stags and the 50 children competitors, all under the age of 16, completed 34 bags of a paradise duck, possum and a rabbit or hare.
The hunters dropped in animals for weighing about 2pm yesterday, he said.
The child with the heaviest bag of animals won prizes including an air-rifle and archery set, he said.
The competition was well-supported by the community and businesses.
''They know it goes back to the kids.''
Children competed for prizes yesterday by carrying a dead hare around an obstacle course.
Lyndon Gold, of Outram, had the heaviest stag (97kg), Brendon Tisdale, of Mosgiel, had the heaviest boar (88kg) and Taieri College pupil Neeve Wooltorton (12) won the children's section, with a 9.74kg bag.