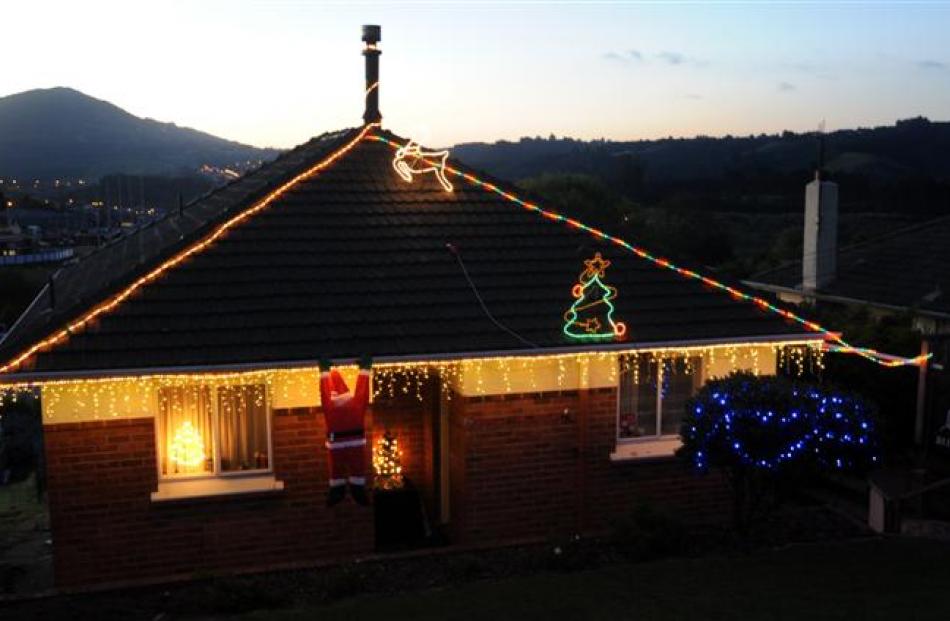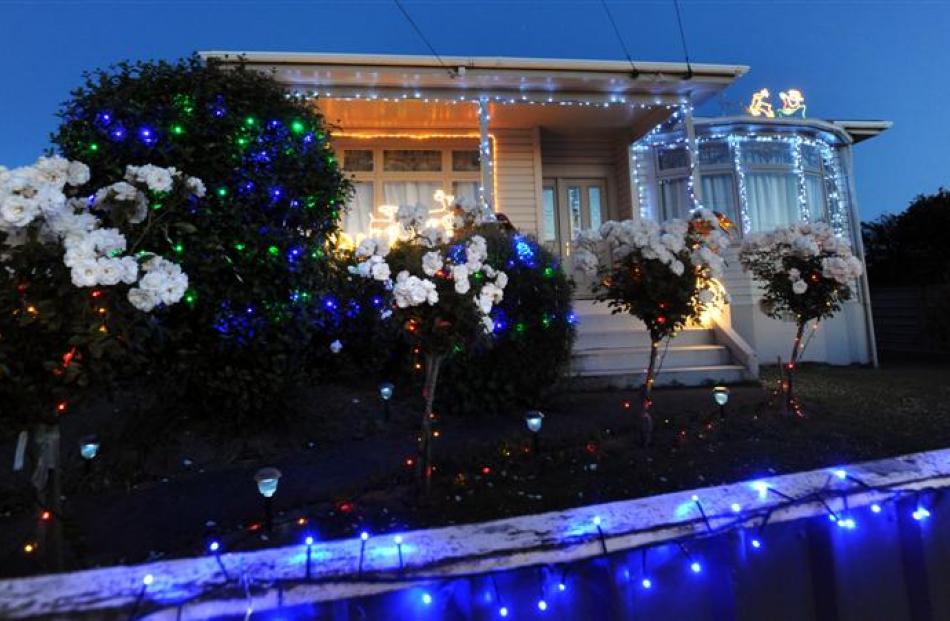 They may take a week and some ingenuity to put up, but houses lit up like, well, Christmas trees at this time of year have some happy people inside. Ellie Constantine toured Dunedin streets to see houses all aglow.
What started off as "a couple of lights" has exploded into a plethora of spinning, flashing, red, white, green and blue Christmas lights at Helen Renault's house.
She started decorating her Fairfield home about 10 years ago when her daughter "bought a couple of fancy lights".
"We just started to extend it and got a bit carried away," she said.
This year not only her house but her driveway and garage are dripping in lights picked up in the Boxing Day sales.
Mrs Renault's neighbours "quite enjoy" the display, but it was really done for children.
"It's mainly for the kids in the neighbourhood - and the big kids. It's quite good when people drive by to see them; it gives you a good feeling when you hear a car stop," she said.
Each year the display was created over a week, starting in November, and ran for three hours on timers each night.
While the power bills went up (they were similar to a winter bill), she did not mind.
"Who the hell cares about the power bill? Every time I do it I see areas I could do more."
Katy Livingston and her partner, Ant Jones, first put up lights on their Abbotsford home about six years ago because they "just love Christmas", she said.
"This is our favourite time of the year - the weather is nice and we get to spend it with people we love. Our family are really good to us and I like to buy them nice things for Christmas. It's a nice time of year to treat people."
The lights, which took a couple of nights to put up, were an extension of interior decoration which included three trees. Mr Jones takes care of the trickier installations.
"I'm not allowed on the roof. I just stand on the ground and tell him where to put them," Ms Livingston said.
The couple also enjoy admiring other people's lights, especially in Waldronville, and hope to build up their collection.