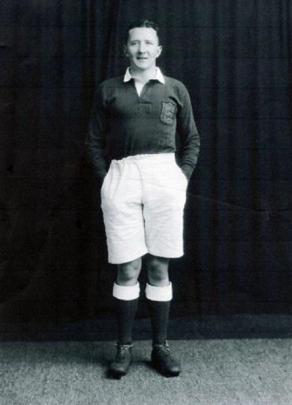 A historic Dunedin rugby test and a doomed love match had Irish eyes smiling in Dublin this week.
The cause of the celebration was an old rugby jersey, which spent most of its life in Dunedin. It belonged to Lions rugby international Michael Dunne, who was a member of the 1930 team which travelled by boat to tour New Zealand and Australia for six months.
After the Lions beat the All Blacks 6-3 at Carisbrook, on June 21, the young Irish forward met a local Maori woman, ''Miss Ellison, whom I liked very much'', he later wrote in his diary.
He sent her his Lions jersey after the tour and expressed the hope she would one day return it to him in person in Ireland.
The pair corresponded for the next 18 months, until Raukawa Ellison's arranged marriage to Te One Wi Wi Taiaroa, with whom she would have six children.
Of the three surviving family members, Reri Owens (81) and Matenga Taiaroa (79) still live in Dunedin, while Robyn Opie (71) lives in London.
It wasn't until after her husband died in 1965 that Mrs Taiaroa spoke for the first time of her old Irish admirer.
In 1976, Mrs Opie was entrusted with returning the jersey to the Dunne family.
''I was the only one who knew about it. I suppose it was because I was the youngest in the family,'' she said from London this week.
''Mum was a very quiet person. A typical Dunedin person, really. Dunedin people never tell their right hand what the left hand is doing.
''Mum first told me about it in 1965, after Dad had died. In 1976, she said that I had to get it back to the Dunne family in Dublin. For me, it was like, here's the biggest haystack and the smallest needle. I didn't even know where Dublin was.''
Mrs Opie grew up in Dunedin, before leaving in 1969, and now divides her time between France and London, where she operates skin care businesses.
''From 1976 onwards, every Irish accent I heard I'd say: 'What part of Ireland are you from?' Someone once offered me 3000 for it and I said: 'Do you know what my mother would come down and do to me if I sold it?'
''The presence of the jersey was a surprise to the family.
''I didn't know the jersey existed until it all came out,'' Matenga Taiaroa, of Otakau, recalled this week.
''My mother got given the jersey before she was married. Before she died, she gave it to my youngest sister, Robyn, who has been keeping it in a bag in her flat in London all these years.''
In Ireland, Mr Dunne also married and also had six children, before he died in 1967.
His family also knew nothing of the jersey and ill-fated romance until Mrs Opie finally tracked them down in August this year, after an opportune meeting with Irish MP Eoin Ryan in London.
''It wasn't until I went to return the jersey to the Dunne family that the significance of it all started to sink in, really,'' she said.
''We were all just looking at each other, thinking how different things could have been.''
The jersey was presented to Mr Dunne's club side, the present Irish champion Lansdowne Rugby Club, in Dublin before last weekend's All Blacks-Ireland rugby test.
''They were over the moon to get it. They're putting it in a glass case,'' Mrs Opie said.
A documentary about the jersey, Lions on Tour - the Jersey Returns! premiered on Irish national broadcaster Radio Teilifís Eireann (RTE) this week.
---
1930
Lions 6, All Blacks 3
Carisbrook, Dunedin  
---