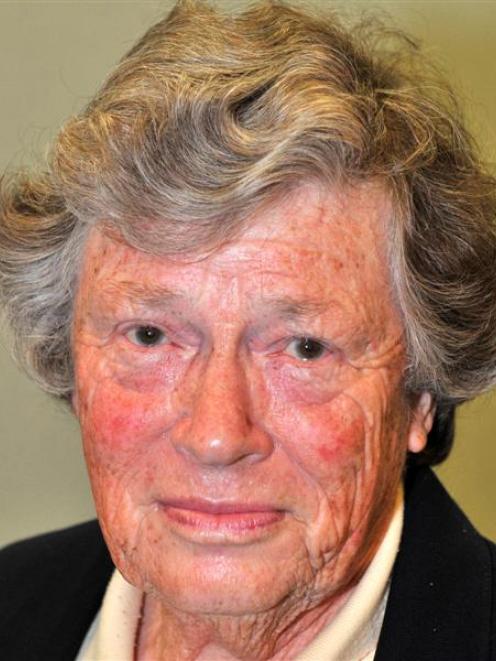 Leading New Zealand arch-itect Ian Athfield yesterday praised Dunedin's wealth of heritage buildings but urged a rethink of aspects of the city's one-way-street system.
Mr Athfield, of Wellington, was in the city yesterday to give the annual New Zealand Historic Places Trust R. A. Lawson Lecture, as part of the Dunedin Heritage Festival.
Addressing about 200 people at the University of Otago's St David lecture theatre, he said ''we have to look at heritage differently''.
One-way street systems, in Dunedin and elsewhere, could sometimes separate important heritage buildings from their communities, and could make it difficult for people to approach such buildings on foot because of traffic volumes.
Before he began his wide-ranging speech, Mr Athfield presented Otago archaeologist and heritage advocate Dr Jill Hamel with the 2013 Dunedin Heritage Festival Bluestone Award.
Dr Hamel was ''delighted'' with the award, which reflected the great deal of support she had received over the years from many people, sometimes at their professional inconvenience.
The award, sponsored this year by the Historic Places Trust, recognises her outstanding contribution to the promotion and preservation of Dunedin's heritage.
Mr Athfield, who is a member of the trust board, urged people to take a more flexible and holistic approach to heritage, treasuring the wider context of historic buildings, including their landscape settings, rather than seeing them only in isolation.
Historic Places Trust Otago-Southland area manager Owen Graham said that, after ''40 years of committed archaeology and historic heritage research'', Dr Hamel was ''still actively involved in projects to preserve and protect Dunedin's historic heritage''.
Dr Hamel this week also received a Certificate of Meritorious Service from the trust in recognition of her contribution to New Zealand archaeology and heritage and her longstanding association with the trust as a member since 1976, and chairwoman of the trust's Otago regional committee (1981-84).
Dr Hamel had also been the driving force behind efforts promoting the protection, retention and upgrading of the 37.5km of historic seawalls encircling the Otago Harbour. She had pioneered, with the co-operation of the city council, the construction design technique now used for all seawall repair and restoration work, officials said.
Officials noted her extensive contribution to Otago archaeology and said her 2001 publication The Archaeology of Otago has become a standard field guide for the region.
Her extensive field-based historic assessment and archaeological surveying and authoritative reports - more than 175 published and unpublished works - had ''contributed immensely'' to the understanding of early Dunedin, Otago and New Zealand, officials said.