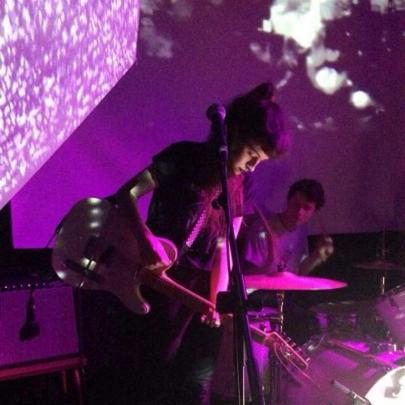 A haven for Dunedin's alternative music scene is having its last hurrah tomorrow, leaving a hole which will be hard to fill. Reporter Vaughan Elder looks into what made Port Chalmers venue Chick's Hotel so beloved both at home and by acts from around the world. 
Surrounded by the hum of Port Otago and under the shadow of Iona Church, Chick's has had an eventful history since it was built in 1876 by former Port Chalmers mayor Henry "Harry'' Dench.
The hotel got its name after local carrier George Chick bought it in 1879 and since then stories have been told of the old pub's secrets, including tales of a dungeon and tunnel leading to the harbour and drunk sailors being shanghaied.
The latest chapter for Chick's started after publican Hector Hazard opened it as a music venue in 2008, with Mike McLeod and a group of Dunedin musicians taking it over in 2012.
In its latest iteration, Chick's has played host to local acts making their first forays into the Dunedin music scene, veterans of the city's 1980s musical golden age and some of the biggest names in alternative music from around the world.
The gigs held there have ranged from those where people stood or sat silently admiring singer-songwriters to gigs where packed audiences thrashed their heads to noise rock.
Tomorrow night will see the end of the hotel's music chapter, with Dunedin bands The Clean and McLeod's band The Shifting Sands playing a sold-out performance.
The Clean bassist Robert Scott, who lives in nearby Roseneath, said it was an honour to be the last band to play there.
Despite not being the best place to see a band - especially when it was full - the bar had an "X factor'' only a select few clubs had, Scott said.
"They have always had good quality bands there over the years, so it's almost like the good music that has been in there has seeped in to the walls.
"When you are there, you are surrounded by the memories of all those bands and you are sort of tapping into that.''
He believed its loss would be felt all over Dunedin.
It had attracted top-quality international bands and those bands "won't necessarily come back'' now it was no longer there.
"We have been pretty spoilt for a town of this size to have so many amazing acts come through.''
He was a regular at Chick's, both as a patron and as a musician - he estimated he would have played at the venue upwards of 20 times either solo or with The Clean or The Bats - and its closure meant he would see less live music.
McLeod said he would have "mixed feelings'' when closing the bar for the last time.
"There will be a sense of sadness because it's something that has been a big part of my life for a few years.''
On the other hand, there would also be relief.
After three and a-half years running the bar, he felt they had achieved what they had set out to when they took it over - except for financial success, which had proven elusive.
"I think a lot of what made Chick's not financially viable was geographical isolation from the city.''
But when it came to running a venue that "looked after musicians'', had international-quality sound equipment and provided a safe space for people from all walks of life to enjoy music, it had been a success.
It felt "pretty great'' when it was packed and everyone was having fun - even if he was sometimes too busy to reflect and enjoy those moments.
It was heartening to hear people were going to miss Chick's - with bands at recent gigs saying their goodbyes and lamenting its loss.
"I've had young people come up to me saying coming to Chick's is their favourite thing to do in Dunedin, it's the best thing in their lives.
"That's really nice to hear.''
He was proud of bringing international acts to the city, which last year included Stephen Malkmus and the Jicks - Malkmus is best known as the lead singer and guitarist of United States indie rock band Pavement - and J. Mascis, of Dinosaur Jr fame.
"These are bands that probably otherwise wouldn't come here, so we have given Dunedin people the chance to see some international stars.''
For the international bands which came to Chick's, it was never about "huge financial riches''.
"Oftentimes, Chick's was the smallest venue they had played in a long, long time,'' McLeod said.
Instead Dunedin's rich musical history - with many of the acts being fans of bands from the city - and the venue's growing reputation were its biggest drawcards.
"People had a pretty good and interesting experience in Port Chalmers and that soon spread around the wider international musical community.
"For instance, when we were talking about [United States band] Shellac coming and playing, [guitarist and vocalist] Steve Albini had heard that Stephen Malkmus had played two shows.
"He said he wanted to come and play Chick's but 'didn't Stephen Malkmus play two shows? Can't I play two shows at Chick's?'''
This reputation grew in part because of the extra effort they put in to accommodate bands and make sure they had a good time.
A highlight for him was playing golf with Malkmus.
"He beat me on the last hole - we were tied at the last hole.''
He singled out a solo show by Mick Turner, who plays in Australian band Dirty Three, as his favourite gig.
"It wasn't a hugely successful show - there was maybe only 50 people there.
"But in some ways, from my perspective, it was kind of nice because it gave me a bit more of a chance to sit back and enjoy and watch the music.''
He still had some interest in attracting international acts to Dunedin and planned on exploring options for putting gigs on in the central city, potentially taking advantage of a council plan to use empty shops around town as art spaces.
He was also open to sharing his experience and contacts with anyone else who wanted to step up and open a music venue in the city in the wake of the closure of Chick's and other music venues, including Taste Merchants.