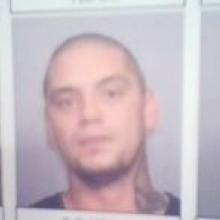 A police mug shot mix-up has prompted a frustrated Dunedin man to declare ''I am not a shoplifter''.
Brendon Keen (35) said he was getting sideway looks from shop assistants, but a chance find by a mate in a clothing store confirmed he had every right to feel paranoid.
That find was a collection of mug shots - including Mr Keen's - under the heading ''active Dunedin shop thieves''.
Three years ago, he was involved in a bar fight after coming to the defence of a younger cousin, and both were arrested - his cousin for breaching a curfew for minor crimes, including shoplifting.
Weeks later, Mr Keen moved to the North Island for nine months but on his return south began noticing the extra attention from retail staff. All was explained when friends told him about the photo montage.
Mr Keen told the Otago Daily Times he did have a police record, ''but nothing for dishonesty''.
In an effort to clear up the matter, he contacted the Community Law Centre and Dunedin police, and believed the situation was resolved.
However, Mr Keen was aware several shops still displayed the collection of mug shots.
Inspector Mel Aitken, of Dunedin, confirmed Mr Keen's photo was incorrectly included in a collection of mug shots of convicted shoplifters distributed in 2010.
''As soon as police realised the error, they advised shop owners to take the incorrect montage down and replace it.''
Mr Keen contacted the ODT so he could appeal to stores to remove the collection with his photo because ''it's wrong''.
''I am not a shoplifter.
''I know I stand out with my neck tattoo ... but are [shop assistants] looking at me because my photo is in the back of the shop and they think I'm going to steal something''.
Police had apologised for the mix-up and had since reviewed processes to ''ensure this doesn't happen again'', Insp Aitken said.
''We are endeavouring to visit retailers more frequently to ensure that they are using montages correctly.''
Mug shot collections were released to retailers to help them identify potential shoplifters, and retailers had to display them in a private place, and sign a form asking them to use the collections safely and legally.