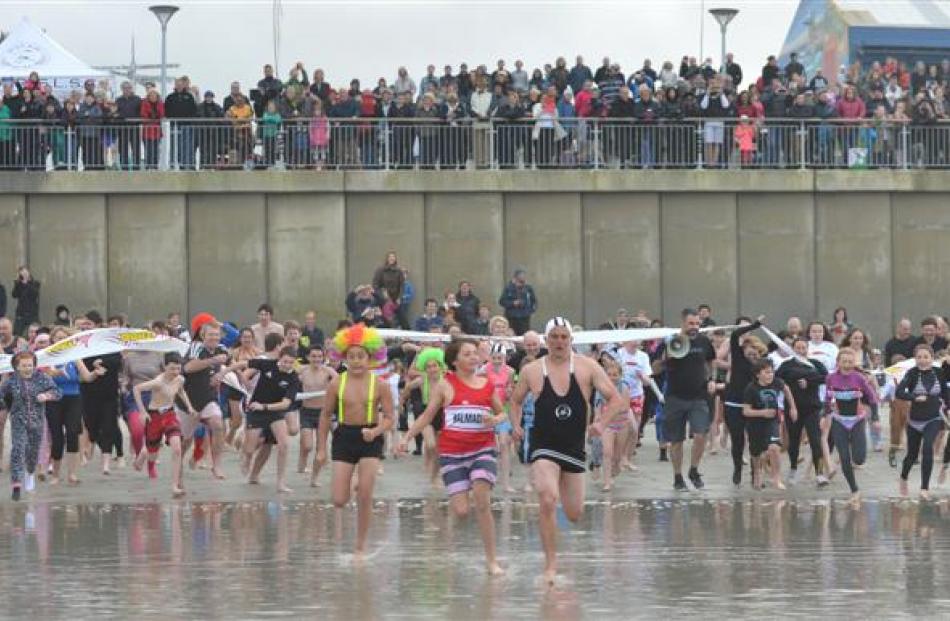 When those in Speedos and bikinis are the most appropriately dressed it must be the annual polar plunge.
About 400 people braved the chilly breeze and 11degC temperature to dive into the surf at St Clair Beach yesterday.
At noon, people dressed as prisoners, cows, penguins and those in more traditional swimming apparel sprinted side-by-side towards the waves.
It was 8-year-old Payton Wells' first plunge and she said it was ''exciting''.
She described the event as ''cold, warm and freezing''.
When asked why she joined in, she said: ''Mum asked me yesterday and I said: `Yeah'.''
Zandra Davis, dressed in a cow onesie, said the plunge was ''Awesome, just awesome''.
''It was fun,'' she said.
''I have gone to this eight times ... and I have been here when it's colder.''
Hitting the waves in the middle of winter was ''invigorating'', she said.
Englishwoman Tina Owen said the water was ''like an English summer''.
St Clair Surf Life Saving Club past-chairman Antony Mason said $2000 was raised for the club by the event.
He joined in the fun and said the water was ''cold''.
It was one of the biggest turnouts he had seen at the event.