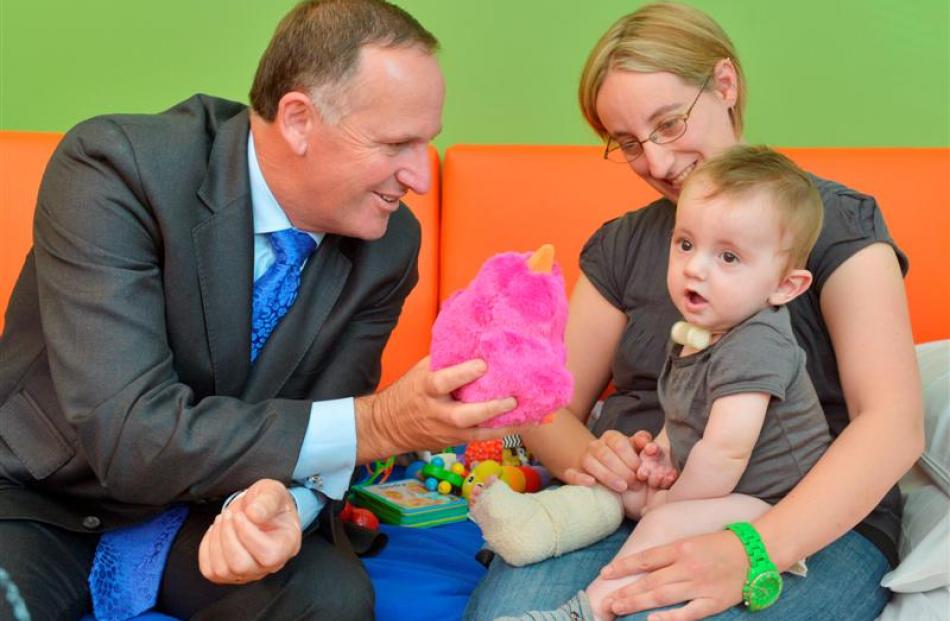 Dunedin Hospital's new neonatal intensive care unit and children's ward is ''world-class'', providing reassurance for parents, and an excellent training facility for young specialists, Prime Minister John Key said yesterday, at the official opening of the $7 million unit.
The long-awaited new ward, which replaces cramped, outdated facilities, has been accepting patients since December.
Speaking to staff, board members and other guests at the opening, Mr Key acknowledged the efforts of health board staff, as well as ''passionate pleas'' from Dunedin-based list MP Michael Woodhouse for funding.
The unit was part of a $24.38 million package announced in 2010.
The unit supported Dunedin Hospital's training role for young specialists, he said.
Mr Key said Dunedin Hospital as a whole was ''performing very well'', notwithstanding this week's IT outage, which he noted was on the ''front page'' of yesterday's Otago Daily Times.
Mr Key said it was a major challenge to keep pace with technological advances, which drove up health spending.
Children's health clinical leader Dr David Barker said the unit had garnered much positive feedback since opening to patients late last year. As well as modern clinical features, it was a bright, child-friendly environment, he said.
The co-located facility was constructed on the site of the old staff cafeteria and hospital administration block.
Board chairman Joe Butterfield, also speaking at the opening, said the board needed more funding from the Government to improve other parts of the hospital.
Speaking to media afterwards, Mr Key said more funding for facility upgrades at Dunedin Hospital would be needed ''over time''.
Touring the new facility, Mr Key met parents and young patients, including Dunedin triplets Teiana, Renata, and Anya Karena, who share a birthday with Mr Key, August 9.
He spoke to Mosgiel teen Charlie Brocks, a type 1 diabetic, discussing possible future medical advances in diabetes.
Mr Key also spoke to Dunedin woman Sera Forbes about her son's condition, which affects his breathing.
The pair are frequent visitors to the ward, and Mrs Forbes said the new facility made a huge difference.
Now when she stayed with 8-month-old Brendan in the hospital, she had her own shower.
Mr Woodhouse told the ODT the opening held particular significance for him as his daughter Chloe (7) spent three days in Nicu as a newborn with a heart problem.
He had brought daughter Isabel (13), who presented the ward with a knitted blanket.