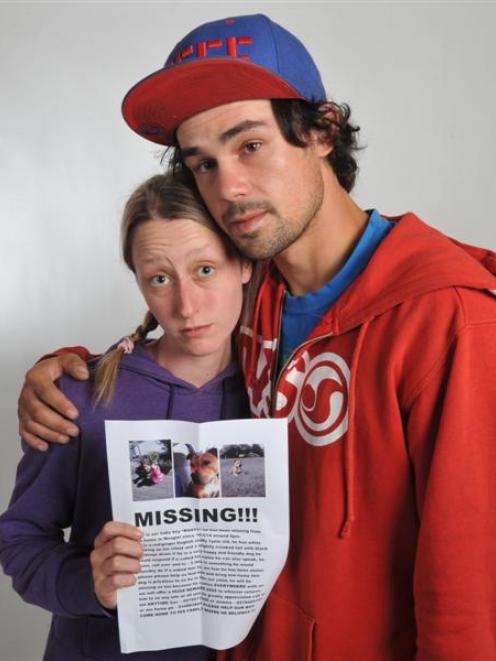 Police and SPCA Otago are playing down concerns about a dog-napping ring.
Rumours about dog fighting rings and disappearances have been circulating on social media and several people approached the Otago Daily Times regarding two skinned dogs being discarded in Milton last week.
When contacted by the ODT, Milton police said they had received no reports of such an incident. However, the latest rumours come after Mosgiel couple Gavin Howie and Jemma Calder's Staffordshire bull terrier was reported missing last month.
Senior Sergeant Craig Brown, of Dunedin, said while police had received reports of ''suspicious people'' following the disappearance of Mr Howie and Ms Calder's dog, he was not aware of any other reports of missing dogs.
Police posted a message on their Facebook page earlier this month saying dog theft messages were ''likely a hoax'' and appeared to be a continuation of a long-running urban legend.
It had been suggested fences were being marked with chalk and dogs stolen by people wearing balaclavas.
Roy Nicolaou, of Brighton, had two dogs, a lockley and a collie, stolen while hunting at Macraes last month.
He intended reporting the matter to the police, but wanted to wait because ''as soon as police get involved dogs get shot''.
He did not know if it was related to reports of other missing dogs, but he was sure ''they were stolen to be kept or sold''.
Dog Rescue Dunedin manager Michelle Hagar said the organisation was ''unsure'' whether it was a hoax or not.
It was concerned about the rumours and had heard suggestions of dog fighting in Dunedin, she said.
The organisation was not trying to ''scaremonger'', but believed it was better for people to be prepared and aware of the possibility of dogs being stolen.
''If people notice anything that's suspicious they need to ring 111 immediately to pass it on to police to follow up,'' she said.
SPCA Otago executive officer Sophie McSkimming said she had received no other reports of missing dogs.
''If anything was going on like that in our neighbourhood, people would contact SPCA,'' she said.
Her biggest concern was the rumours might ''give people ideas''.
When contacted, Mr Howie said his dog, Rusty, was still missing.
He had heard many rumours about dog thefts and, while he did not believe them, they only added to his anxiety about the loss of Rusty.