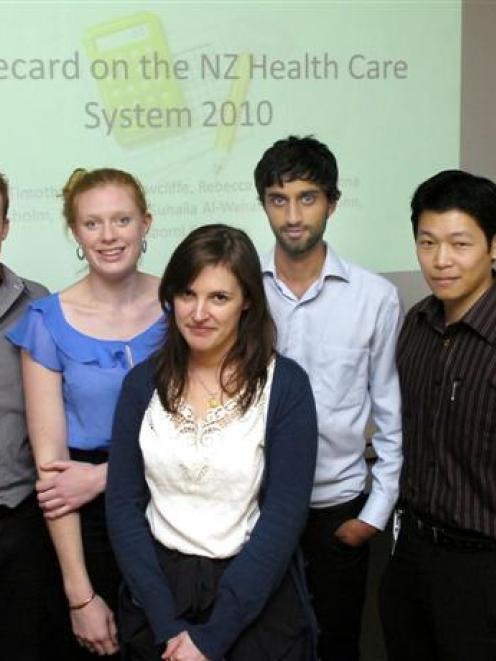 New Zealand's first overall health system scorecard was unveiled in Dunedin yesterday. The system received a respectable 71% - but performed poorly in many areas.
The work was carried out by eight University of Otago sixth-year medical trainee interns, and supervised by Associate Prof Robin Gauld, of the university's preventive and social medicine department.
Of five measures, New Zealand scored highest in efficiency (81%) and lowest in equality (58%).
Using national and international data, the students set benchmarks and compared where New Zealand stood in relation to them, although on some measures a lack of data was an issue.
Of 22 contributing OECD countries, New Zealand spent the second-highest proportion of its healthcare dollars in 2008 - 7.2% - on administration. The highest was Mexico.
Co-presenting the results, Nic Rawcliffe said health-care issues that had received public policy attention, such as free GP visits for under 6-year-olds, was where New Zealand excelled.
This indicated New Zealand might need to target areas where it did not perform well, such as infant mortality, obesity rates, oral health, adverse events in hospital and reviewing patient medication upon hospital discharge.
The scorecard highlighted that 13.1% of New Zealanders had suffered adverse events in public hospitals, although the rate compared favourably with other countries.
New Zealand per capita rate of doctors was about half that of top-ranked OECD countries, but its people had good access to GPs, who appeared to act as efficient "gate-keepers" to other services.
The country fared poorly in oral health. Almost 50% of 5-year-olds had dental cavities and more than 10% of adults reported their oral health needs were not being met.
In emergency situations, New Zealand scored well in the top-priority cases, but not as well for less serious cases.
New Zealanders were good at turning up to specialist clinic appointments, only 9% not attending, and in not using emergency departments inappropriately (8%). The system did not fare so well in other efficiency measures such as unnecessarily repeating tests.
New Zealand scored highly for immunisation and screening rates.
The poorest performing area was equality, with vast differences in health measures depending on both ethnicity and socio-economic factors.
The scorecard is to be submitted for academic publication, and the students hope it will be replicated in future.
It had been hoped to compare New Zealand's scorecard with that of the United States, but differences in methodology meant it was inadvisable.
Prof Gauld said the work was a "hugely important" tool for monitoring New Zealand's healthcare system.