Otago's state of emergency has been lifted.
Emergency Management Otago this morning lifted the state of emergency which existed since deluges and heavy wind battered Otago's eastern coast over the weekend.
The region has now officially entered a recovery phase with teams moving on to assessing the damage and checking on the needs of those affected by the devastating floods.
More than 100 residences on the Taieri Plains remain evacuated with smaller enclaves of evacuations in place throughout the wider Dunedin area.
Dunedin City Council communications and marketing manager Graham McKerracher said the city's roads were a priority for council staff with many slips still affecting the city and 43 road closures at present.
The emergency operations centre remains open and council general manager community services and development Simon Pickford has been appointed recovery manager.
A Clutha District Council spokeswoman said welfare people, building and health inspectors were out and providing support where necessary.
A conserve water notice is currently in place for Rural Water Schemes Balmoral 1, 2, Tuapeka as well as for the township of Waihola, she said.
Deluges that hammered the South Island's lower eastern coast still plagued many rural settlements yesterday. Henley was without power and 35 homes were still evacuated.
All flood waters should be treated as contaminated as a precaution.
We are aware of sewer overflows on some properties in Milton and Lawrence, she said.
Elsewhere on the Taieri, dozens of evacuations remained in place and 54 properties in the East Taieri area, 22 in the Silverstream area and 18 in the Mill Creek subdivision remained empty last night.
Smaller evacuations also remained in place throughout the city with small numbers reported in Mornington, South Dunedin, St Clair and Northeast Valley.
More than 100mm of rain and heavy winds battered much of eastern Otago on Friday and Saturday.
Waitaki's Emergency Operations Centre had closed, and Mayor Gary Kircher said the district was now in recovery mode.
Properties still evacuated last night: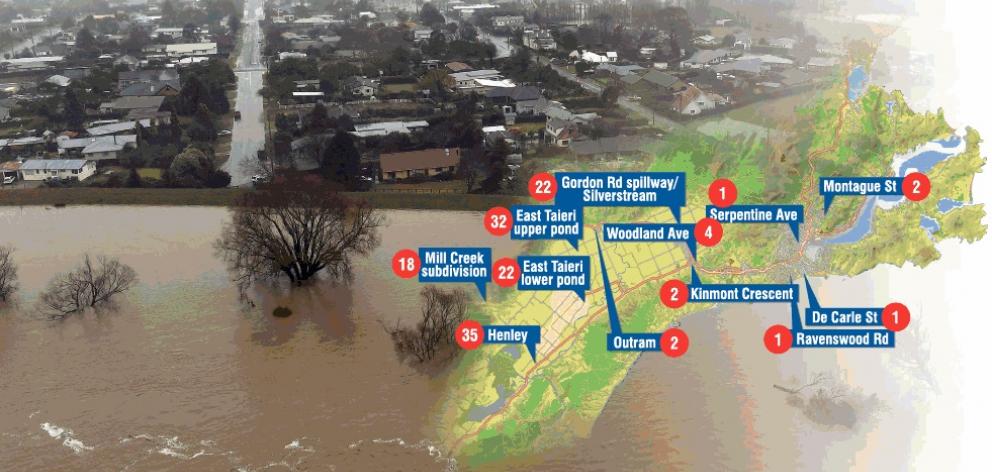 The floods caused significant damage and sewage contamination in North Oamaru.
Emergency Management Otago group controller Chris Hawker, in Dunedin, said the move towards recovery did not signal any reduction in effort.
When floodwaters receded, the true extent of the damage and devastation caused  would be revealed, Dunedin Mayor Dave Cull said.
"The Taieri Plain, which has been the focus of our attention, has been really badly damaged," Mr Cull said.
"There's a lot to do and there's a long way to go."
"There are still about 130 properties, mainly around Henley, that are still evacuated and it may still be some days before they can get back to their properties,'' he said.
Some residents were evacuated from the settlement by helicopter on Saturday.
About 100 homes were also evacuated in Outram as floodwaters loomed precariously behind a floodbank, but by yesterday residents had been allowed to return to all but two homes  affected by flooding.
Residents were advised to treat all floodwater as contaminated and authorities had received reports of sewage contaminating some properties in the wider Dunedin area.
Any issues with sewage contamination or debris on residential lawns and streets should be reported to the council immediately and it would organise contractors to help.
Power was restored to the Leith Valley yesterday, which also allayed any fears of water supply issues in Waitati and Seacliff.
Many roads within the city's boundaries were reopened and access to Otago Peninsula was restored. Portobello Rd was cleared by 5pm, and State Highway 88 was also reopened.  Late last night 42 Dunedin roads remained closed.
For Dunedin road closures click here
Only residents should be accessing Portobello Rd beyond Portobello.
State Highway 1 between Balclutha and Dunedin is now open as is State Highway 8 between Milton and Alexandra – but caution is advised as there are restrictions in some places.  For all State Highway updates click here.
A section of the Rail Trail at the 107km marker at Kokonga has been washed out and is closed.  
"A lot has been achieved, but we need to be aware there's still a lot of surface water, there's still debris and there's some roads that are still partially affected by debris and slips, as well," Mr Cull said.
More than 20 slips had been identified around the city, while Otago Regional Council chairman Stephen Woodhead said there were ''lots'' affecting rural roads in the wider region.
Work to clear those on arterial roads was a focus for contractors yesterday.
Dunedin City Council chief executive Dr Sue Bidrose warned those heading to work and school  today  to be aware there would still be widespread debris and damage on roads.
One home in Ravenswood Rd remained evacuated following a large slip and another in Serpentine Ave also remains empty following a slip.
Mr Woodhead said regional council engineers were assessing damage to stopbanks and pump stations across the region as water levels receded.
"This has been a significant event and the second-biggest on record for the Taieri," Mr Woodhead said.
"With the amount of water it's going to take days and days for the various systems that are draining and pumping to catch up."
Many of the region's rivers were declining ''almost as quickly as they rose''.
Federated Farmers was calling for grazing and feed assistance for affected farmers and had received a good response so far, he said.
Following flooding, power was turned off to 21 properties in Otokia and Mclaren Gully Roads in Henley for safety. Power has been restored to customers in Mclaren Gully Road and State Highway 1.
Customers in Otokia are currently being supplied by emergency generator while crews replace a damaged power pole. It was expected that  power would be fully restored by the end of today.
Dr Bidrose said there was damage to power poles and lines.
Anyone requiring emergency accommodation should contact the city council.
The council would organise a kerbside collection of sandbags in Mosgiel and South Dunedin in the coming days.
Concerns remained that possum carcasses contaminated with 1080 poison were swept downstream and dog owners should exercise  dogs on leads at all times while walking along the Silver Stream flood bank track.
Two slips fell on to the Frasers Gully walking track and Second Beach walking track also remained closed due to a slip.
● Dunedin City Council (03) 477-4000, Federated Farmers 0800 FARMING (0800 327 646), Otago Rural Support Trust 0800 787 254 or visit www.rural-support.org.nz.
● The water levels in Christchurch peaked, due to the high tide, just after 5.30pm yesterday.
In a statement, the Christchurch City Council said there had been some "fresh flooding" on the roads around the lower reaches of the Heathcote River.
The flooding was expected to subside ''quite quickly'' as the tide went out, the statement said.
The council issued an evacuation notice for several streets just after 2pm on Saturday.