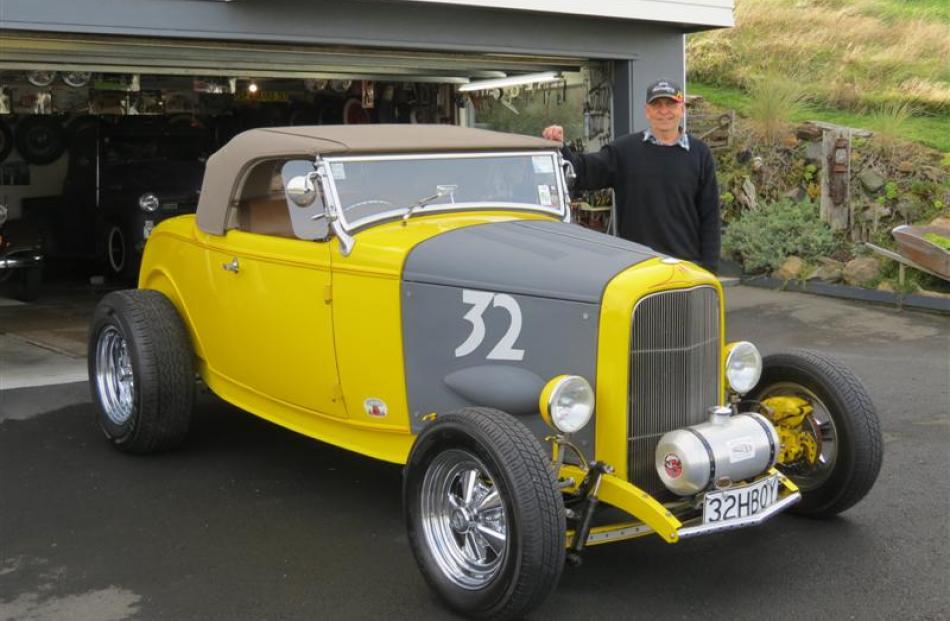 Model cars, posters, old wheels, hub caps, petrol tins and classic car memorabilia are among treasures in Dave Rodger's garage.
The retired mechanic spends quite a bit of his time painting, restoring and rebuilding classic cars and hot rods. Mr Rodger has a Fiat Bambina, 1948 Chevrolet Pickup, 1934 Chevrolet Coupe, Rat Rod, 1932 Ford Roadster, a 1967 Morris Minor Pickup which he uses everyday, and a 1931 Chevrolet Special which has been under construction for the past 20 years.
''I have had an interest in classic cars right from the first pedal car I had, which I still have. That's where it all started. They are a bit different from the everyday car. I did have a lot of classic cars over the years that were in the '50s era, including a 1957 Chevrolet. I really liked the hot rods and wanted one, so I got one,'' he said.
The yellow hot rod, which is based on a 1932 Ford Roadster, has a 305 (5 litre) Chevrolet V8, is ''pretty lightweight'' and ''gets up and goes'' when needed.
The 1931 Chevrolet Special started as a chassis and Mr Rodger has built everything for it.
''It's been under construction for 20 years and still is. I will get it finished at some point,'' he said.
The Rat Rod is the one that usually gains the ''most interest'' when he takes it to meets.
''It's a 1927 Model T body that's been built up from scratch. It was originally built as a giveaway car for the 2002 Beach Hop. Whoever won it wasn't interested in it. I bought it three years ago. It looks totally different from what it was. It took me about two years to get it road legal again. It's been made to look like it's been sitting under a tree for the last 30 years. It has a ratty appearance,'' he said.
Wife Marie shares her husband's passion.
''She can tell the difference between a '56 or '57 Chev or a Cadillac, or anything like that. She always comes along to various meets that we attend in one of the cars,'' he said.
Mr Rodger, who has been restoring cars for years, is a bit of a ''magazine freak''.
''I have been collecting classic car magazines from the '70s. I have thousands stored away,'' he said. He is a member of the Otago Classic Motoring Club and Pre 49 Street Rodders.
If you have an interesting vehicle that would make a great story, contact reporter Samantha McPherson on 479-3505 ext 8306 or email samantha.mcpherson@thestar.co.nz.