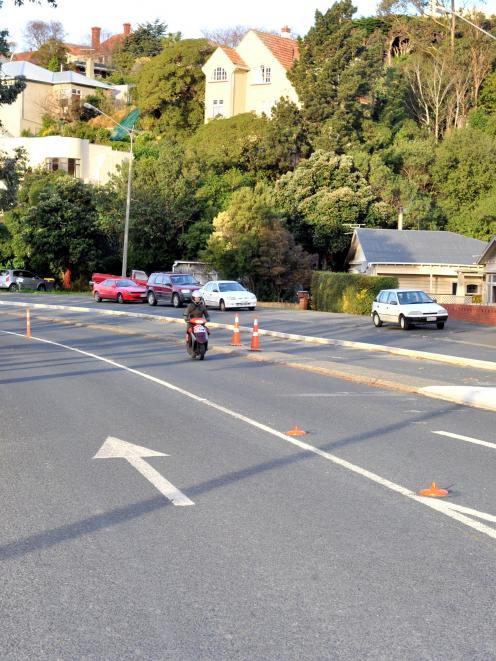 It is hoped a plan will be in place by the end of the month to finally put an end to the confusion over a section of Portobello Rd, in Dunedin.
Although details will not be released before draft plans are approved by Dunedin City Council senior managers, council senior traffic engineer Ron Minnema this week promised the section of the road between Andersons Bay Rd and Portsmouth Dr, decommissioned earlier this year for a cycleway, would afterwards no longer look like a road.
He also confirmed the draft plans included only minimal alteration to the present road lanes.
Users and nearby residents have complained after the section of road was reduced from four lanes to two, by closing off the two eastern lanes to vehicle traffic.
The redundant area was set aside to become a heavily landscaped area with a cycle lane separated from the footpath and the road lanes. It was to form part of the South Dunedin cycle network.
Following the opening of the new layout, the council received several reports of near misses as people struggled with its confusing design. The council responded with new markings, signs and bollards, but the confusion among motorists continued.
Mr Minnema said the main thrust of the revised plan was to ''absolutely make sure that redundant section does not look like a road as well as provide good facilities for pedestrians''.
He said cyclist and motorist groups had been involved in the drafting of the plan for the redundant section, as had various council departments.
The intention was to take the new plan to residents of that section of the road for feedback before starting to rebuild it.
A recent report to councillors suggested $300,000 - 66% funded by the New Zealand Transport Agency - was available to complete the revised layout, but Mr Minnema expected the work would cost less than that.