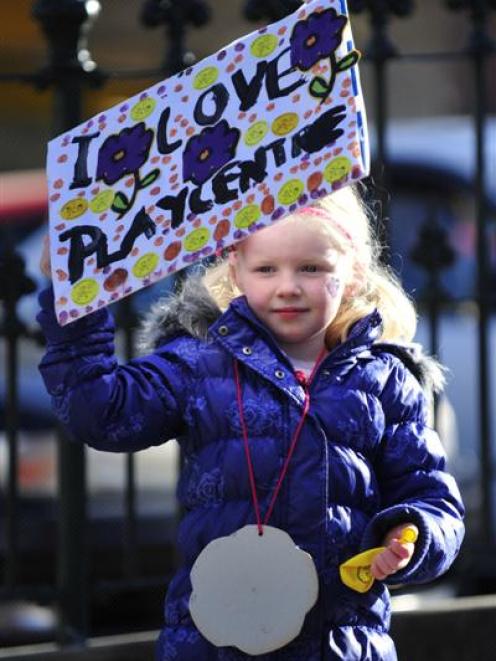 The message of playcentre being a high-quality education option for parents, which was worthy of community and Government support, rang loud and clear through the Octagon, Dunedin, yesterday.
About 250 children, parents, and grandparents, gathered in a rally to support playcentre and oppose funding cuts proposed by the Early Childhood Education Taskforce.
The independent taskforce relegates playcentres to a lower "non-core" level of funding, along with all other organisations which are not trained-teacher led. If its proposal went ahead, up to 70% of playcentre funding would be cut.
Otago Playcentre Association SPACE co-ordinator Sarah Hjertquist said the organisation agreed with much of the report's content, including that society aim for high-quality early childhood education, all children should be able to access it and parents should support it, but disagreed with the downgrading of playcentre and the emphasis it put on teachers.
"Teachers are not the only indicator of quality education. We believe playcentre provides quality education," she said.
Playcentres had high adult-to-child ratios, were affordable and accessible, and allowed parents to become educated and fully involved in their child's learning.
Dunedin City Councillor, Colin Weatherall, attended the rally and spoke of his family's experience with playcentre and encouraged the crowd to "make your voices heard and make the taskforce reconsider".
"Playcentres are a part of our community, part of our lives, and need to be part of our future," he said.
Public consultation on the taskforce report closes on August 8.