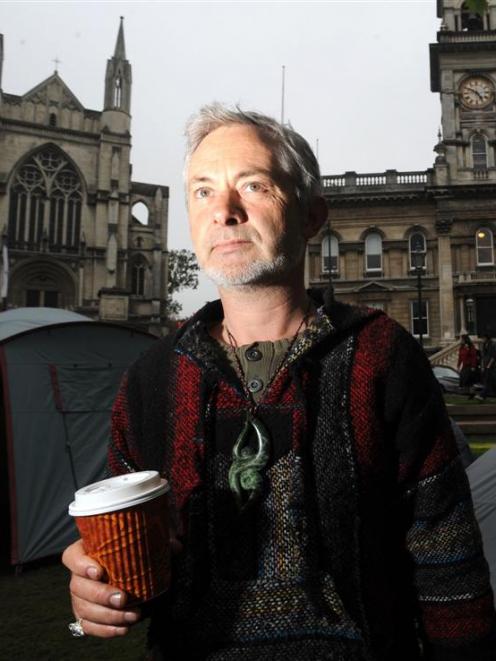 The Occupy protesters have in large part been pigeonholed as young idealists. So what would a middle-aged property investor be doing there? Hamish McNeilly reports.
A former millionaire property guru who once lived in the plush Auckland suburb of Herne Bay has more recently been living in a tent in Dunedin's Octagon - and he could not be happier.
"This is my new occupation," Kieran Trass told the Otago Daily Times, from near his makeshift residence of the past few weeks.
The 49-year-old said he was down to "the last of my resources" and detached from his previous life as a banking and property high-flier.
When we talked, he had barely slept since pitching his tent at the Octagon, but despite the sleepless nights and threat of eviction by the Dunedin City Council, he remained committed to Occupy Dunedin and occupying the Octagon.
In 1981, Mr Trass began working as a mailboy with the Bank of New South Wales, and in less than a decade was in a management position with a dozen managers under him.
His curriculum vitae boasts work experience at Nathan Finance, UDC and CitiBank, where he gained experience in mortgage lending and corporate banking.
In 1996, he left the industry and set up the country's first online mortgage brokers, and still retained an interest in the company.
By the mid-1990s, he had a dozen start-up companies, including the property consultancy Hybrid Group, a property trading company, a building company, and a legal practice.
"I just don't put the dollar before people. People always told me I earned less than I should have, because I was about adding value and I believe that value would come back to me in one way or another."
Mr Trass said he was making a lot of money but would plough the proceeds back into the businesses.
He also began researching the property cycle and published five books on the topic, including Grow Rich with the Property Cycle and The Housing Bubble, both published by Penguin.
His knowledge of property cycles saw him give advice to mum and dad investors, appear on shows such as Campbell Live as a property commentator, and travel further afield to analyse property cycles overseas.
In 2007, "before the world turned", he increased his exposure to property, and coupled with his businesses shrinking ended up losing hundreds of thousands of dollars, and "I haven't recovered".
Mr Trass said his property advice would have made a lot of people a lot of money, and was proud not to leave "a trail of destruction behind me like everyone else seems to have in the industry".
"My attitude was people before profit which is why I never sold sections in Fiji, and all these other wacky deals these other guys were promoting."
He does not regret any decision he made in business, and while taking losses was painful "I would not change a thing".
From living in a waterfront property in Herne Bay he headed to pre-earthquake Christchurch to take mentoring classes while finance companies began collapsing around the country.
He took particular interest in the case of South Canterbury Finance and even spent time talking to Allan Hubbard and investigating why the company collapsed.
"It should never have gone under," he alleges.
"This was a massive epiphany for me, because suddenly I realised people in power were abusing that power against someone who I consider to be one of the most honourable men."
He also became exasperated because financial advisers were now regulated by the same people who were involved with South Canterbury, and "I am now considering whether I stay in business or not".
When Mr Trass moved to Dunedin with his partner they both watched the occupation of Wall Street unfold, and "we recognised it as a valid concept and movement".
He had endured a love-hate relationship with the movement since pitching his tent in the Octagon - hating the infrequent sleep, but loving the community interaction.
"People sometimes drive past and go 'get a job, you losers' but they have no idea."
Asked if the "occupy" movement was making a difference, Mr Trass replied "I know we are making a difference".
The man who made a name for himself picking property cycles is now predicting the collapse of the banking system, as "it is gasping its last breath".
"When the banks collapse, who owes who what?"