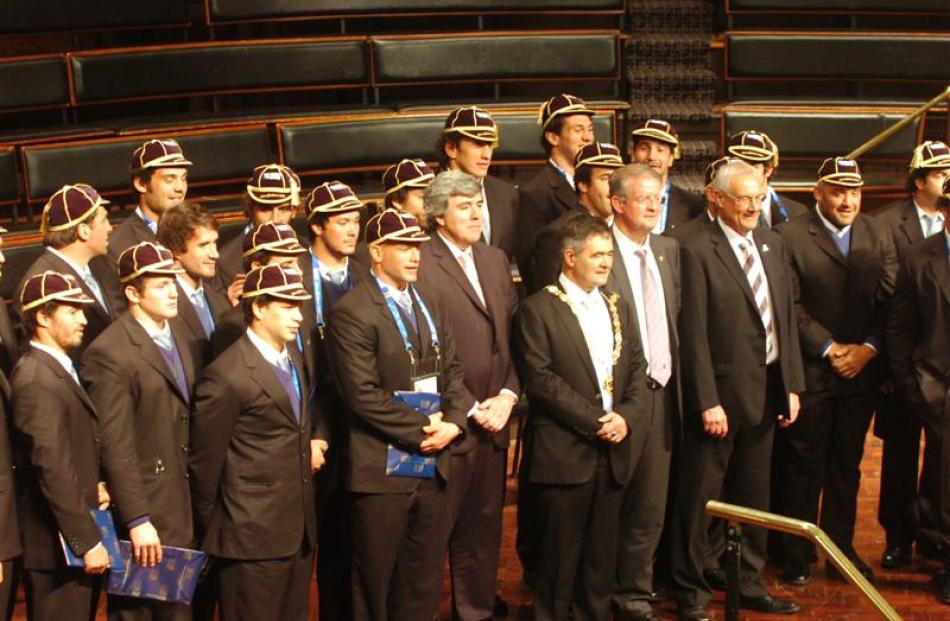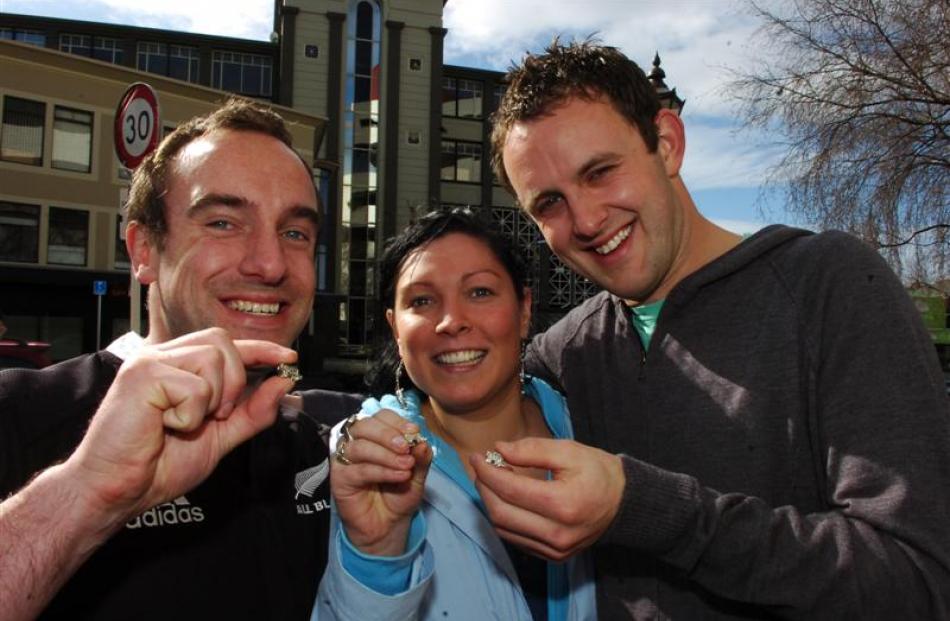 If Agustin Gosio's skills on the rugby field match his performance on the guitar, then Argentina's wing-centre will be one to watch at the Rugby World Cup 2011.
The Pumas were at the Dunedin Town Hall yesterday for their official capping and welcome to the city.
After the official welcome speeches and traditional Maori waiata by the King's and Queen's High School kapa haka group, the Pumas unexpectedly responded with their own waiata, Color Esperanza (Colour of hope), led by Gosio with his guitar.
Nobody had a clue what he was singing about. But it did not matter.
Watching him lead his team in the song by popular Argentine singer Diego Torres was enough.
It was clear Gosio was the only one who knew the lyrics to the verses, but when the chorus came along, his team mates joined in, singing with gusto - loosely translated - "Knowing that you can, wanting to be able, remove fears, get them out, face painted the colour of hope, tempt the future with the heart".
While most of the 250 people in the audience had no idea of the translation of the lyrics, their applause showed they thought it was a fitting response and the highlight of the ceremony.
Following the ceremony, with cap in hand, Gosio said singing and playing guitar was only a hobby, but he was pleased his debut performance in Dunedin had been entertaining.
The Pumas were officially welcomed to Dunedin by Matapura Ellison, Mayor Dave Cull, Rugby World Cup director Bernard Lapasset and Argentine ambassador Fernando Escalona, and were treated to performances of Scottish country dancing and a Chinese lion dance as a symbol of Dunedin's cultural heritage.
In response, Pumas captain Felipe Contepomi said he hoped the team would give New Zealand people something to cheer for and show them some great rugby.
"We are very grateful and honoured to be here in New Zealand - home of a great and proud history of rugby."
The ceremony was capped off with a performance of the Argentina and New Zealand national anthems by the City of Dunedin Choir.
A similar ceremony will be held for the English rugby team in the Dunedin Town Hall tomorrow, at 5.30pm.