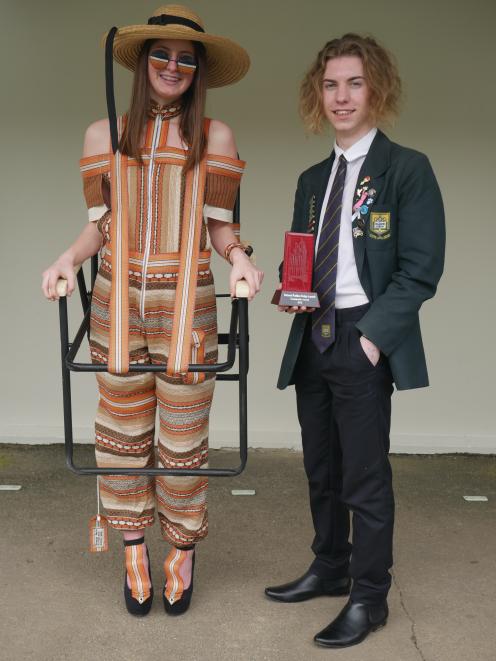 Bayfield High School design pupils are a cut above the rest.
George Park (16) won the recycled award and Alice Parsons (15) the avant-garde award in the school section of the Hokonui Fashion Design Awards, which were held in Gore last month.
He entered the awards last year and finished second in the same section, so was pleased "to know that I have improved'', George said.
This year's outfit had a "retro summer theme'', and included an op-shop chair, one-piece jumpsuit and sunglasses.
He said the criteria of the section was to creatively use recycled material and make the design "unconventional''.
He enjoyed designing outfits for that section because it allowed designers to come up with totally original creations.
Last year, he created a mid-length pleated dress with 2.5m-long sleeves.
Alice took a different route creating her outfit for the avant-garde section.
She was heavily influenced by designer Leigh Bowery, who was known for his creative costumes. Her look included a white and red dress with a mask.
She said she enjoyed being able to try new things and push boundaries. It took her about five months to complete the outfit.
She was "gobsmacked'' when she was announced as the winner.
"I did not expect it at all. Even getting called out for highly commended was shocking.''
The year 11 pupil said watching the show was amazing and there were "so many inspiring and beautiful creations''.
Alice also won the Bernina Award of Excellence in the school section.
St Hilda's Collegiate School pupils Amelia Phillips (18) and Lucy Girvan (16) also entered.
Amelia was runner up in the streetwear section and Lucy was highly commended in the recycled section.
In the open section, Vicki Taylor-Blair won the nightlife award and Lucy Maw was highly commended in the sustainable award.
JESSICA.WILSON @thestar.co.nz