Three years of silence at Forsyth Barr Stadium will be shattered early next year.
The Red Hot Chili Peppers' concert on January 26 will be the first major concert held at the Dunedin venue since 2019.
Genre-bending rapper Post Malone will be the band's supporting act.
Dunedin Venues Management Ltd chief executive Terry Davies said he expected a string of shows to follow next year as things slowly returned to normal.
"It's great news that we've got our first show back post-Covid," Mr Davies said.
"I'm suspecting we're going to have a pretty healthy 2023 now.
"For us to kick that off with one of the best-selling acts in music history is a bonus."
The six-time Grammy Award-winning Red Hot Chili Peppers formed in 1983 and were inducted into the Rock and Roll Hall of Fame in 2012.
Hits include Under the Bridge, Californication, Scar Tissue, Otherside and Give It Away.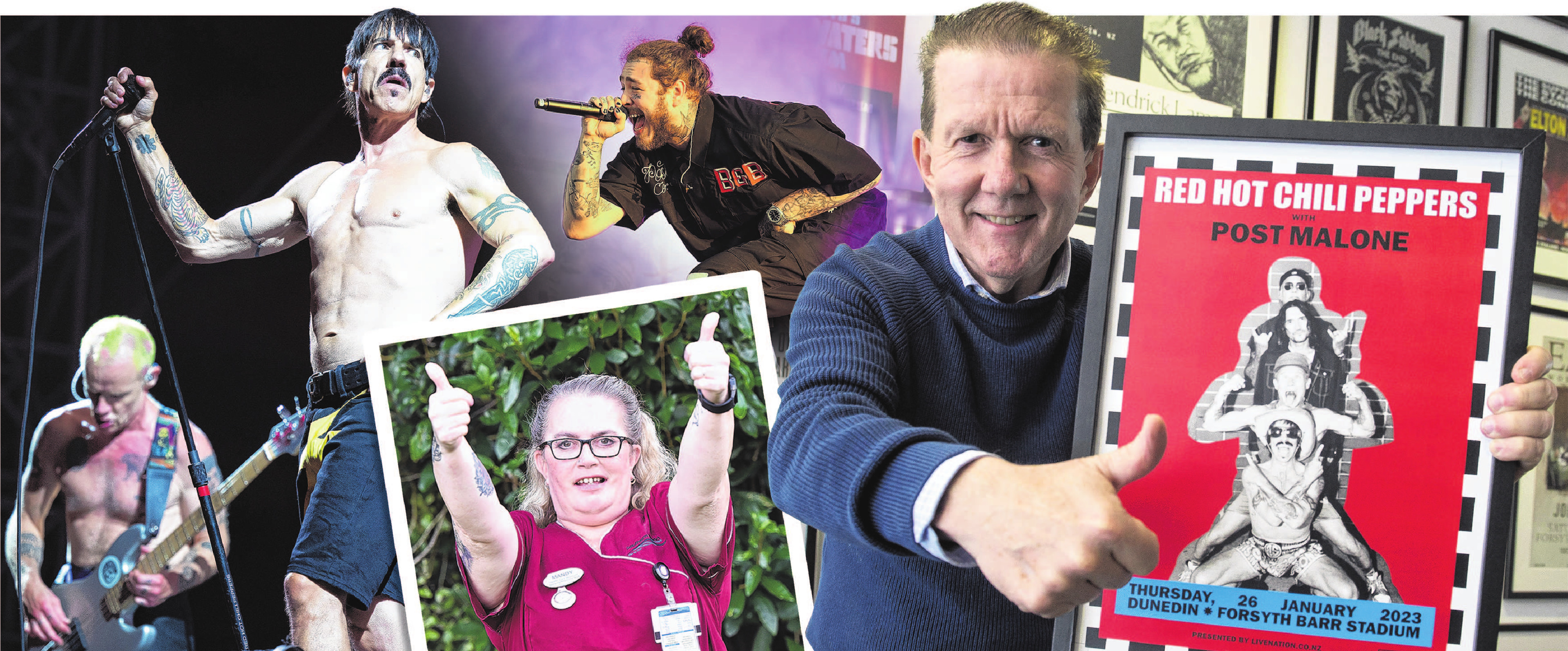 Fans were enthusiastic about the announcement of the concert yesterday.
Mandy Kelly, of Dunedin, said she was looking forward to seeing the Red Hot Chili Peppers live for the first time.
The health worker had been listening to the band for more than three decades, since first enjoying them as a 13-year-old going through a rebellious phase.
"It takes me back to those days when I listened to that music," Ms Kelly said.
"I love Under the Bridge and all their older stuff.
"I think they're so cool."
Her daughter introduced her to the music of Post Malone, which she also enjoyed.
"It's about time we had someone come back to Dunedin."
For Lance Black, of Wanaka, it would be the second time he had seen the band play live.
The "phenomenal" first experience left him keen for another show.
"I don't drink, I don't do drugs, but I walked out of it like I was high."
He fell in love with their music at age 12 after learning about them from his brother's band T-shirts.
These days he had plenty of his own band T-shirts, which were well worn, Mr Black said.
Mr Davies said up to 34,000 fans were expected to attend.
"There's people that have grown up with the Chilis - and the younger audience that music still appeals to."
The concert will take place in the University of Otago summer holidays, but this was not expected to be a problem.
"Students may come back a little early for this, especially with Post Malone on the billing."
Mr Davies estimated the concert could provide a $10 million boost to the Dunedin economy.
"History tells us that a significant percentage [of people] come from outside the city specifically for our shows."
This caused a big flow-on effect for businesses, he said.
- By Fiona Ellis