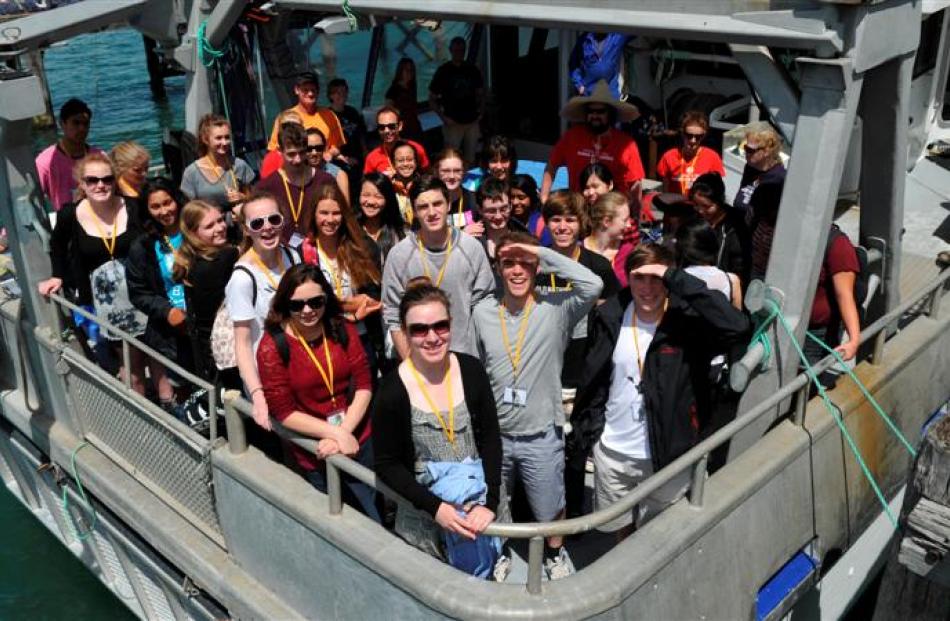 Twenty-five years after the University of Otago's hands-on science programme started, organisers are still finding new things to do, such as offering ''science snacks'' aboard the research vessel Polaris II yesterday.
About 235 senior secondary school pupils from throughout New Zealand are taking part in the latest annual science camp, which aims to familiarise pupils with research opportunities at Otago University and elsewhere in Dunedin.
In recent years, some pupils have joined week-long research projects run each morning organised by the university's marine science department and involving trips aboard the Polaris II.
But yesterday was the first time pupils had been able to undertake afternoon science snacks aboard the research vessel. Such ''snacks'' allowed students to briefly experience a wide range of scientific research options.
And this was also believed to be the first time three Otago academic disciplines - marine science, surveying and geology - had joined forces to offer snack sessions at the same venue, in this case, aboard the vessel.
Hands-on science camp co-ordinator Sandra Copeland said the programme went smoothly, with everyone taking the earlier mixed weather in their stride.
Otago surveying lecturer Emily Tidey and surveying professional practice fellow Richard Hemi co-ordinated overall hands-on science activities on the vessel yesterday afternoon.
Mrs Tidey said the school pupils had enjoyed the two-and-a-half-hour trip, mainly in Otago Harbour. It had been a ''good step forward'' for the three disciplines to be working together offering science snacks at the same time, Mrs Tidey said.
The science camp ends tomorrow.