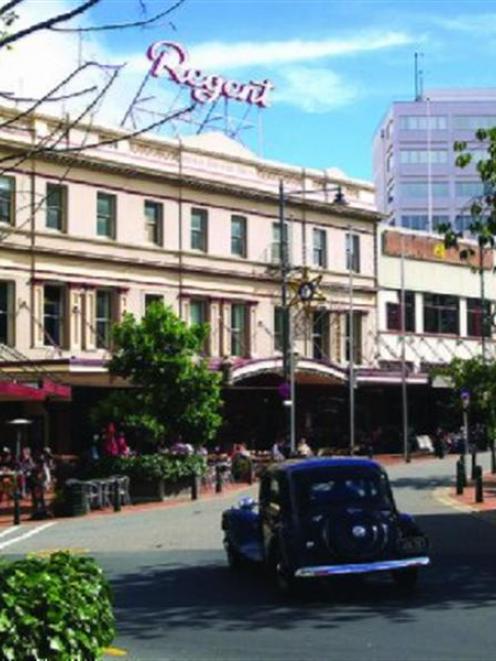 Much has changed since English actor Sir Peter Ustinov marvelled at the Regent Theatre in 1990 and asked, "Can I take it with me?" In the past 20 years, theatre technology has gone from stone age to space age, as audiences have become increasingly sophisticated and productions have had to meet greater expectations.
Otago's premiere performance spaces, the Regent and Dunedin Town Hall, have been allowed to deteriorate to the point backstage technicians say they are dangerous to operate in.
The Fortune and Mayfair theatres are also in need of urgent modification and the city still lacks the 800-seat, full-facility theatre arts commentators say we need.
The Otago Theatre Trust finally appealed to the Dunedin City Council last year for help, saying the Regent could no longer meet technical or safety aspects of modern stage productions.
The theatre was given $350,000 for upgrade design work and a further $4.4 million in the 2010-11 financial year for construction work, conditional on the trust raising $2 million for the auditorium upgrade.
"It's so antiquated.
"There aren't enough lines and it's dangerous. I don't think anyone would sign it off as far as OSH goes," Royal New Zealand Ballet production manager Andrew Lees told the ODT.
"Shows have progressed so much and all the other theatres [in New Zealand] have been upgraded.
"But that hasn't happened for some reason in Dunedin."
The RNZB bypassed Dunedin with its recent Nutcracker and Carmen tours, while only one-third of the Don Quixote set could be used.
"For the last eight to 10 years, we've had to drop scenes.
"The public doesn't know about it, but the companies do," says the Regent's veteran technical manager for the past 25 years, Nelson Miles.
"The last thing we want is ballet and opera to stop coming to Dunedin.
"We've run that risk already, to be honest," Regent Theatre Trust chairman Mike Shield admitted.
But proper opera and ballet performances require theatres with a proscenium arch, a fly tower, wings and an orchestra pit.
Auditoriums, like the Dunedin Town Hall and Glenroy, are favoured for concerts, while full-facility theatres, such as the Regent and the Mayfair, are needed for opera, ballet and theatre.
A modern production can require up to 66 counterweights for scenery changes.
The Regent has just 24, although only 23 are operational because the cinema screen makes one redundant.
"Twenty-odd lines is hopeless, nowadays," says outgoing Otago Festival of the Arts director Nicholas McBryde.
"Technology has changed and audiences' expectations have changed. 
Shows today require whizz-bang technology.
The King's and Queen's performance venue has more technology features than the Regent by a country mile."
The King's and Queen's Performing Arts Centre was built at a cost of $4.5 million in 2006.
The facility was used for 570.15 hours last year by everyone from the Dunedin City Council, Otago Festival of the Arts, Southern Sinfonia, Royal Society of Freemasons and Dunedin Jehovah's Witnesses to more than a dozen local schools.
"It's been a brilliant facility and it's getting used more and more as people become more aware of it," King's High School assistant principal Bryan Frost said.
The capacity can reach a little more than 400, with the addition of movable seats at the front.
"It was originally going to be a 600-seater with a mezzanine, but we ran out of funding, which is a pity," Mr Frost said.
The DCC bought the Athenaeum and Mechanics Institute Building, two doors up from the Regent Theatre, for about $1 million in October 2007, with the intention of building a mid-sized theatre.
A report commissioned from arts consultant Nicola Robb concluded there was a need for such a theatre, while a second report, from accountants and business advisers Deloitte, recommended a $14 million overhaul of the city's existing theatres. 
Deloitte estimated the cost of building a mid-sized, full-facility theatre on a city-owned greenfields site would cost between $11,825,000 million and $34,800,000 million.
Yet another DCC report identified the car park on the corner of Moray Pl and Filleul St as a suitable site for a greenfields theatre.
The DCC eventually rejected the mid-sized theatre proposal, dismaying many local arts enthusiasts.
"Dunedin not only needs to maintain the Regent, but also to upgrade the smaller Mayfair, and to provide another mid-sized, full-facility venue if it's to maintain its relative position as an arts centre," arts writer and curator Peter Entwisle said.
"There are performances we don't get in Dunedin because we don't have such a facility."
Mr Entwisle has been agitating for such a theatre for more than 10 years and favours resurrecting the glory years of His Majesty's Theatre.
"It's clear what's missing is a theatre distinctly bigger than the Mayfair and smaller than the Regent.
"The need is there.
"We should now look at more specific proposals, including buying and upgrading Sammy's," he said.
"It is highly significant that Sammy's not only exists, with a proscenium, fly tower and orchestra pit - not to mention good vehicle access from Vogel St - it is also in regular use.
"That is despite the existence of the Mayfair and the Regent, with which it sometimes competes."
Theatre capacities:
Dunedin Town Hall 2800.
Regent Theatre 1830.
Sammy's 718.
Mayfair Theatre 407.
Glenroy Auditorium 400.
King's and Queen's Performing Arts Centre 374.
Coronation Hall, Mosgiel 356.
Fortune Theatre (main stage) 227.
Fortune Theatre (studio) 104.
Hutton Theatre 200.
Allen Hall 200.
Playhouse Theatre 140.
Globe Theatre 60.