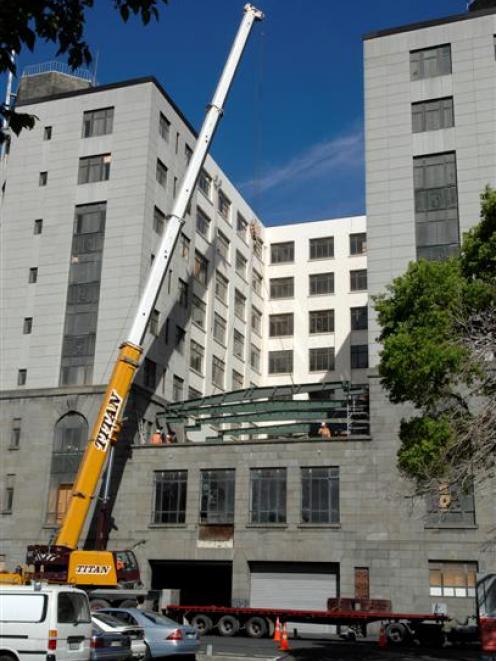 As an airy new space is created with major engineering work at Dunedin's former chief post office, the building's developer is praising the city's potential.
Geoff Thomson, of Distinction Hotels, said contractors were yesterday putting in place steel beams over the top of a new conference centre area for the four-star redevelopment.
The roof over the conference centre was likely to be completed by Christmas, after work to replace the main roof was completed earlier this year.
The complex was now awaiting results from its Dunedin-based engineer on how it would perform in an earthquake, the Invercargill-based hotelier said.
"From an insurance perspective they need it. From a building compliance perspective they need it, and also for our peace of mind we need it."
The building had to be modelled as if it was being built with today's standards, and this had added time and extra costs to the project, he said.
"We can't finish our architectural work until we get the engineering finished," Mr Thomson said.
It was too early to give a completion date, but he was excited about the potential of the multimillion-dollar project: "We will keep niggling away on it until we finally put it to bed".
Mr Thomson said the potential of the hotel was highlighted during the Elton John concert at Forsyth Barr Stadium late last month when he had to return home to Invercargill after he was unable to get a room in Dunedin.
"There is a reasonable corporate market coming to Dunedin. Tourism is very flat around the country now, but at some stage that will pick up again. The rooms are desperately needed as I believe Dunedin has a lot to offer the tourism industry and there is an impediment in the number of beds available at the standard required."
He praised the Dunedin City Council, particularly the economic development unit, for supporting the project.
Initial plans for the Distinction Dunedin included 180 rooms and suites, restaurants, bars, conference facilities, a business centre, gym, as well as a lap pool.