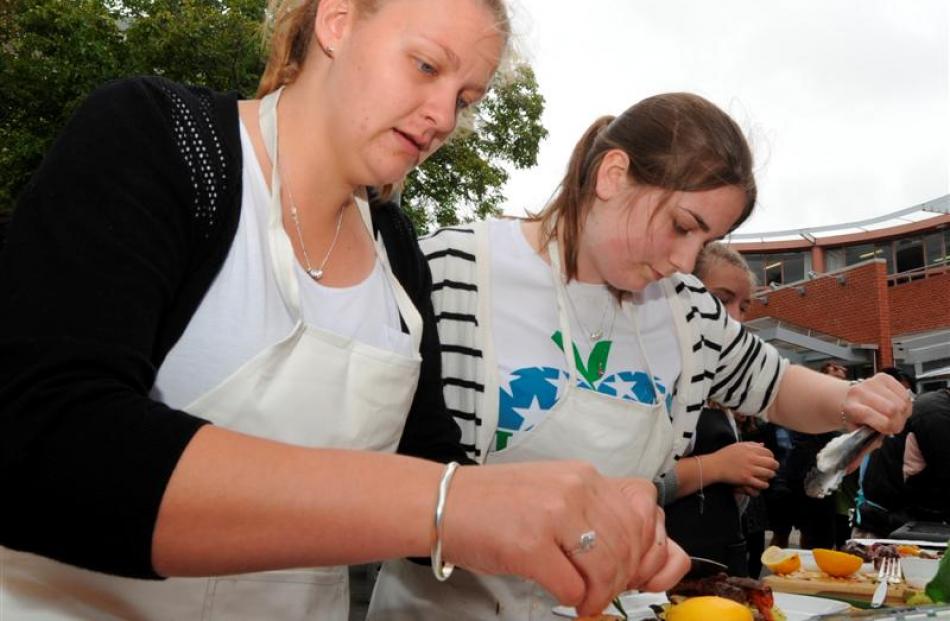 A cooking competition held as part of O-Week yesterday went some way to disproving the reputation of scarfies as being lousy in the kitchen.
Four teams of students competed in the Otago Farmers Market Masterchef Competition on the Union Lawn, pitting their culinary skills against one another using a set of ingredients which included wild venison and pickled walnuts.
Each team had 45 minutes to cook a two-course meal, the pressure being turned up a notch when vice-chancellor Harlene Hayne was announced as mystery judge with five minutes left on the clock.
''If you want to stay at university I recommend that you cook your food well,'' event MC Baz MacDonald warned competitors as they rushed to complete their dishes.
The ''Yellow Fever'' team made up of Wuita Huang (23), Ingryd Kazia (21) and Via Nsuwandy (21) came away with the win and the giant wooden spoon which served as a trophy, with a simple dish of grilled venison their main.
Dunedin Mayor Dave Cull, who was among the judges, said the winning team's timing was immaculate, with everything put on the grill at the last minute, which kept the flavours fresh.