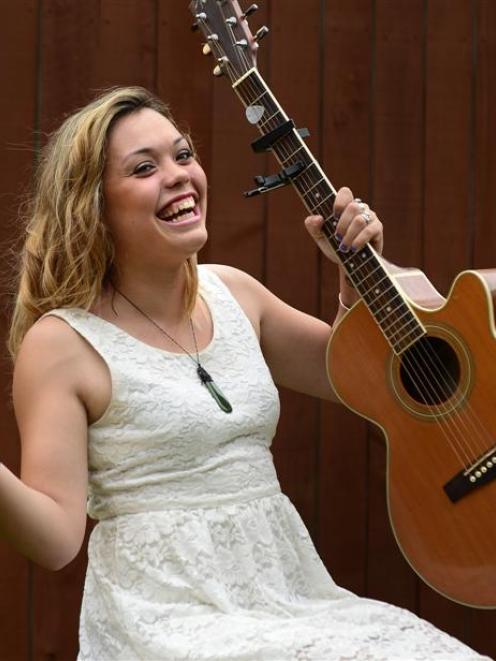 They are already calling her ''Kiwi Kylie'' in Australia.
Dunedin singer-songwriter Kylie Price returned home to Dunedin yesterday after winning the biggest country music festival in Australasia - the Tamworth Country Music Awards.
The 19-year-old University of Otago student won the coveted Aristocrat Entertainer of the Year and the Capital Country Music Association talent quest at the 10-day international festival.
''I was rapt. I couldn't believe it,'' she said last night.
''I never go over there expecting to win. There are so many great performers you don't know, so all you can do is try your best.''
The award caps off a stellar two years for Miss Price, who was an Otago Daily Times ''Big Night In'' community concert guest artist in 2011 and overall New Zealand Gold Guitar Awards winner last year.
She will also play support for the Hollies' New Zealand tour, which opens in Dunedin on Friday.
''I've always wanted to open for big acts, so the Hollies is a pretty good start,'' she said.
The New Zealand music industry was hailing her achievement last night.
''This is a huge first for New Zealand music. She was up against all the top performers in Australia and she beat them all,'' veteran country music artist Gray Bartlett said from Auckland.
''No New Zealand artist has done anything like this, since Patsy Riggir in the 1980s. Every now and then, someone comes along whose got something special and Kylie's got everything. She's got R and B and pop and the country market covered,'' he said.
''She reminds me a bit of Bonnie Raitt. She can go on and do anything. Her voice, style and emotional ability is probably in front of any young New Zealand singer at the moment.''
Mr Bartlett recently returned from the United States, where he has been promoting Miss Price.
''I've got top agents in America working on her and we're convinced we'll get her going in Nashville and LA. We've just got to present her right and we'll be working on that over the next few months.''
Miss Price pulled out of New Zealand's Got Talent in October after TVNZ required her to sign an exclusive contract, which could have prevented her from other performances and opportunities.