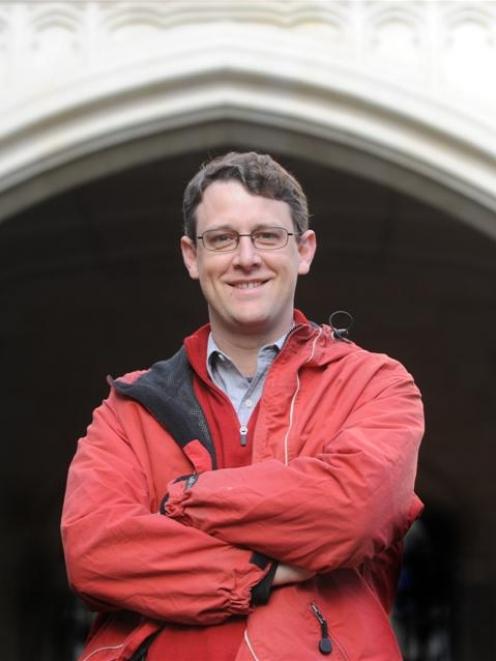 Most 16-year-old boys have no idea what career they might follow. But Christopher Lind knew exactly what he wanted to be - a neurosurgeon.
The University of Otago graduate has gone on to realise his teenage ambition and is now a specialist in a brain surgery technique which is allowing patients to overcome debilitating tremors.
Mr Lind (34), who spoke this week at a conference organised by the university's Brain Health and Repair Research Centre, said he was a year 12 student at Rangiora High School when he was selected to attend a hands-on science course at Otago.
One of the staff members he met was neuropsychologist Brian Hyland, who explained the science of studying the brain and its functions.
"I knew right then I wanted to be a neurosurgeon... I thought the brain sounded interesting and brain surgery was a frontier science. I thought it would be a good thing to do and it has turned out to be so."
Mr Lind graduated from Otago in 1998 and honed his neurosurgery skills in Auckland before joining the staff of the Sir Charles Gairdner Hospital in Perth 4 years ago. He is now a consultant specialist.
While most of his work involves operating on patients with brain tumours, he is one of a small team which has been refining techniques for deep brain stimulation surgery - a procedure which involves inserting one or two thin electrodes into the brain to reprogramme the signals causing tremors or chronic pain.
The electrodes are connected to a small electronic pacemaker-like device inserted in the chest, which can be programmed and adjusted by a neurologist.
The procedure was first used 15 years ago by French surgeon Alim-Louis Benabid. Mr Lind and his team operate on about 20 patients annually, most of them people with Parkinsons, with a condition called essential tremor, or with dystonia, a disorder which causes limbs to twist.
While deep brain stimulation was not a "magic cure", reducing patients' symptoms rather than ridding them of their disorder, Mr Lind said 80% to 90% of his patients had noticeably reduced tremors and a much improved quality of life.
One patient, a bricklayer who had been unable to apply mortar to his bricks because of the severity of his tremors, had been able to return to work. Others found "a new lease of life" because they were able to leave their homes, travel, play sport and eat at restaurants.
Elsewhere in the world, most deep brain stimulation surgery is done with the patient awake on the table and under local anaesthetic.
Patients had to listen as surgeons removed the top of their skulls, then, as surgeons tried to find exactly the right place to insert the electrodes, were asked to recite the alphabet and move their fingers, something Mr Lind said was "bizarre for the patient and difficult for the surgeon".
He and neurosurgeons Julian Rodrigues and Rick Stell have been experiencing success with a new system. They use a high resolution MRI scanner to examine the patient's brain the day before surgery and use computer software to work out exactly where the electrodes should go. That enables the patient to be under general anaesthetic during the operation.
Mr Lind said fewer people were required in the operating theatre - six instead of 10 - and the time surgery took had been reduced from six hours to about four.
Although it was still early days, indications were the results of surgery under general anaesthetic were the same and patient was less traumatised.
He said he believed all procedures would eventually be carried out that way, but said the idea was "a bit controversial" among neurosurgeons.
• No deep brain stimulation surgery is carried out in New Zealand, although plans are under way for the procedure to be offered in Auckland soon. In recent years, about 70 New Zealand patients have been sent to Australia for the procedure.