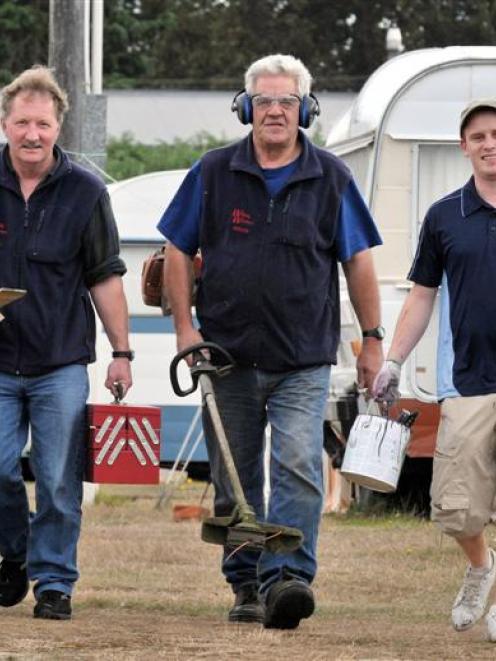 Restricted by their disabilities, two Dunedin men found work, and understanding, in an organisation for people who face barriers in securing jobs.
Willing Workers is a social group which formed out of the Work Opportunities Trust in 2001.
Managing director Stu Ellwood said many of its employees experienced difficulties securing and maintaining work because of disability, ageism, mental health or nationalism issues.
Work was provided for five full-time and 10 part-time staff, with about 20 others in casual or on-call contracts.
John Scott has worked for the organisation for more than three years doing a range of building and maintenance work.
After a car accident left him with post traumatic stress and chronic pain, he spent 12 years on the invalid benefit before his wife's new job meant he no longer qualified.
Willing Workers understood his limitations, caused by his disability, and the varied and interesting work took his mind off his pain, he said.
Fellow worker Brian Short has been with the organisation for about five years, mostly mowing lawns, gardening and supervising groups.
Years of work on the railways and roads left him with industrial deafness.
He struggled to find work before he was approached by Willing Workers.
"It allows me to work. It's one big happy family," he said.
Contracts with the Dunedin City Council and Methodist Mission kept most of them busy.
The Waikouaiti Beach Motor Camp provided another avenue.
The organisation started managing the camp for the council in September 2008 and took over the lease a year later.
Mr Ellwood said the venture was "quite unique".
"I'm not aware of any other motor camps that are run by a social firm."
Mr Short and Mr Scott were tidying the camp this week in preparation for the Easter weekend, along with another Willing Worker, Andrew McCrae. He was working for the organisation while on holiday from Glasgow.