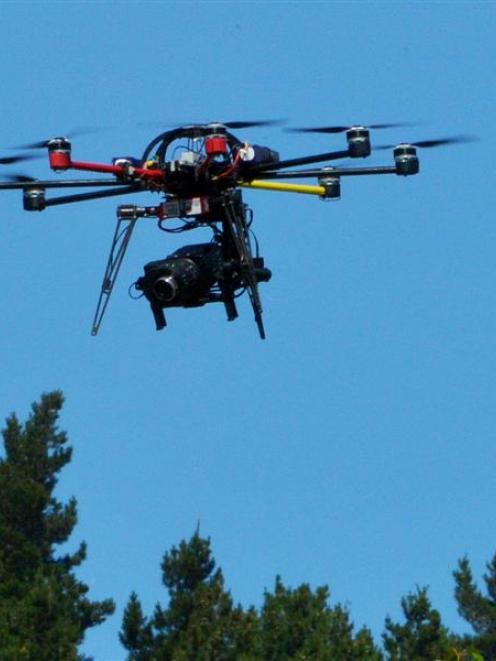 It was a case of drone wars in Dunedin yesterday as the University Oval airspace became too cluttered for a Sky TV contractor.
Drone operator Chris Neves, of Auckland production company Reel Factory, said he operated the eight-prop drone to capture live aerial footage for Sky TV when New Zealand played Sri Lanka in cricket yesterday.
However, as play was set to start, a ''four-prop toy drone'' was seen flying above Logan Park, near University Oval.
Reel Factory and Sky TV staff called police to seek the drone operator's intentions, to ensure the quadcopter was grounded and did not cause problems during the broadcast, Mr Neves said.
''It's a problem because we are operating around the perimeter of [University Oval] and we don't want an impact with another drone.
''The other thing is the Civil Aviation Authority have very strict rules we have to abide by.''
When the drone was in the air, he listened to air traffic control on a UHF radio and in the first innings he lowered the drone to a ''safe altitude'' when a rescue helicopter was flying towards Dunedin Hospital.
He was concerned amateur drone operators could lack knowledge of the CAA rules.
''This is the only thing that worries us as professionals is the other guys.''
The professional drone, worth about $100,000, had clearance to be flown 120m high and was in the sky every 30 minutes during play yesterday.
''We try to put it up between overs because it causes less distraction to the players.''
The drone would not be flying when the two teams met at the ground again tomorrow because the drone was booked to cover a horse race.
A Dunedin police spokeswoman said before the cricket started yesterday police were advised of a drone being flown near University Oval.
''The person who had been flying the drone wasn't able to be located and it wasn't possible to confirm the information provided,'' she said.