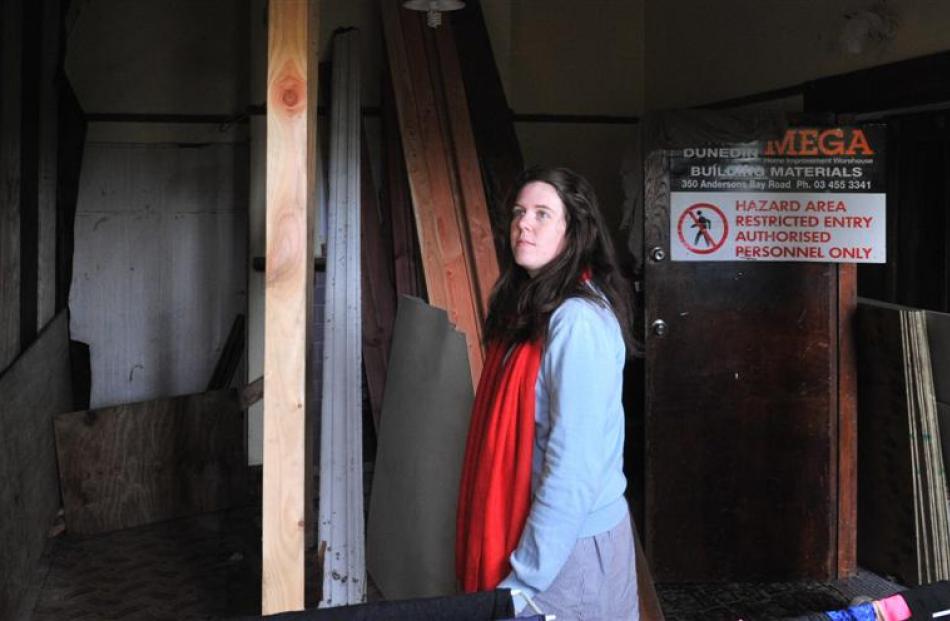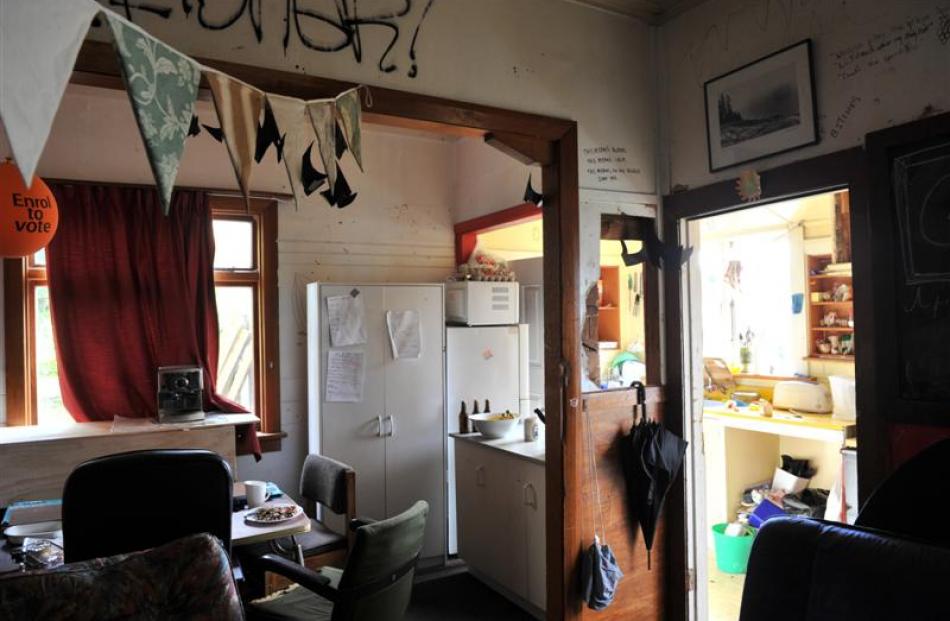 Friends have told them that living in one of Dunedin's worst flats is ''novel/stupid''. But a group of students plans to return to their rundown rental next year, while taking their message about housing standards to a wider audience. Kim Dungey reports.
Students planning to transform one of Dunedin's worst flats into a warm, low-energy villa as an example for others to follow have changed focus.
''We went into the project quite bright-eyed and bushy-tailed about the fact this could be repeated by other students,'' says Lindsey Horne, standing in the two-storey house which was voted the worst property in last year's Otago University Students Association (OUSA) student flat awards.
''But as the year's progressed, we've realised it's just too difficult for students to do ... So it's more about empowering students to get their landlords to make the changes.''
Living in the cold, rundown flat while trying to insulate it has been hard work and ultimately, it should not be up to tenants to make improvements, she says.
''We're not the ones who own these properties.''
Letisha Nicholas, whose bedroom has been uninhabitable for almost four months, agrees the project would be difficult to replicate on a large scale.
''These are old houses and they take a lot of work,'' she says, explaining that when they opened up a wall in her bedroom, they found that side of the house was rotten right through and had no foundations.
''If you do a little maintenance every year, it doesn't take that much to get them up to scratch. But if you just leave them, like this one, it takes a lot of time and you get issues like dampness and mould.''
The tenants of the London St flat have been shortlisted for Live the Dream, a 10-week programme which will see teams from throughout New Zealand given access to some of the country's leading thinkers to help their ideas flourish. If successful, they will spend the summer in Wellington developing resources for renters.
Nicholas says they are keen to work with the OUSA and participate in the annual flatting talks on campus but also want to make information available nationwide.
''We want to communicate to students especially, but renters in general, what we've done with the housing project, from how to negotiate with your landlord to energy efficiency measures you can do really easily and what the health benefits are.''
Being aware of the regulations governing renting is particularly important given house prices in places such as Auckland, Horne adds.
''It's harder for young people to buy homes these days so they're going to be renting for longer and we think it's important, if that's the case, that they're informed about their rights as tenants.''
Later this month, Horne and fellow flatmate Cade Bedford will tell their story at Festival for the Future, a national conference celebrating ideas and innovation.
In the meantime, they are negotiating a new lease on the London St house, ''It's a worthy enough project to keep at it'', but advising students looking for flats for next year not to accept substandard accommodation.''
Many people do not realise there are more flats than students in Dunedin so every year there is a mad rush, especially among first-years, to secure accommodation,'' Horne says. Grateful tenants do not want to rock the boat by asking for proper insulation and heating ''but a landlord is providing a service the same as a cafe or someone selling a product and if you bought a crappy product, you wouldn't stand for it''.''
One of the problems in Dunedin is you have a lot of first home renters who have no idea what they're doing,'' she says, explaining that they look for flats in summer when the weather is good, then find in winter they are not what they expected.
Another issue is that most students are locked into 12-month leases. If that was not the case, students could move out, the worst flats would not be rented and landlords would be forced to make improvements.
The situation is exacerbated by the fact there is a fresh group of uninformed students each year and many have no direct contact with their landlords.''
More and more students are dealing with property managers so no-one really feels the blame. From the owner's point of view, it's out of sight and out of mind. From the property manager's point of view, it's not their problem.''
Happy to help with the work needed at 47 London St but not wanting to give their landlords a free ride, the flatmates asked them to put back into the house the money they would otherwise have spent on labour.''
It just seemed obvious that they would want to put as much into this as we were because it's their property. The more they look after it, the [longer] they can have it around and therefore get an income . . . but it's been an uphill battle.''
Horne suspects the state of Dunedin's housing affects youth retention rates, a point also made by former OUSA president Logan Edgar last year when he told the Otago Daily Times, ''People might think it's a giggle living in the cold for a year, but they aren't rushing back to Dunners after their studies when living is warmer, drier and more affordable everywhere else''.
Horne and Nicholas are disappointed there has not been a greater uptake of government-subsidised insulation but believe the OUSA ''rate my flat'' website will have an important role in naming and shaming apathetic landlords and are positive about the cosy homes project, which aims to insulate 18,800 Dunedin homes by 2025.
They also like the direction of the proposed healthy homes guarantee, which would require all rental properties to meet minimum standards of insulation and heating, but worry the cost of improvements will be passed on to tenants.
The four female and two male flatmates, all fifth- and sixth-year students aged in their early 20s, moved into the flat in February after negotiating the weekly rent down to $500.
Four of them belong to Generation Zero, a movement of young New Zealanders working towards a zero-carbon Aotearoa.
Nicholas thought the property, dubbed the ''S**t Show Chateau'', would be a ''great project house'' but was not initially aware it had been declared Dunedin's worst student flat.''
The criteria was that it have single glazing, no insulation, was draughty and had no heat source. Holes in the wall were optional,'' she says, adding there were several flats in various states to choose from, but the London St property matched all the criteria, including the holes.
In winter, as temperatures dropped to 5degC, they had a snow fight inside. The snow did not melt and eventually had to be thrown outside. Since then, a pellet burner has been installed in the lounge.
The only walls insulated so far are in a tin-roofed former veranda, now a bedroom, which they dubbed the ''rainforest room'' because condensation dripped from the ceiling. Another room is called the ''death splatter room'' because of strange stains on the ceiling.
With the help of friends, the flatmates have hacked down vines, cut back sycamore trees, created a vegetable garden and filled skips with the rubbish dumped outside by previous tenants. They have also sprayed mould, reinstated missing doors, added draught proofing and gained subsidies to insulate the floor and ceiling, all the while documenting their progress on Facebook.
The century-old flat that was cold, smelly and depressing, is now a ''diamond in the rough'', Horne says, laughing.
But plans for further wall insulation were put on hold after they removed the scrim in Nicholas' bedroom, only to find a ''massive wall of black mould'' and no foundations. The struts builders put in months ago still remain.
Another flatmate, Leander Schulz, suggested the student housing project after his girlfriend - locked into a 12-month lease on a damp, mouldy Dunedin flat - developed respiratory problems and had to give up running.
When Schulz approached the landlord about putting in insulation, the man claimed it would be cheaper to tear the house down. However, he and his fellow flatmates say heritage buildings are part of Dunedin's culture and they don't want them to disappear.''
We're not talking about getting rid of these beautiful old houses that have this great student vibe and turning them into clean white boxes,'' Horne explains.
''We're just asking for basic insulation and heating.''
---
Tenant's tips
• When looking for a flat, ask if the property is insulated and if there is a heatpump in a strategic position.
• If you are a student, try to negotiate a lease that runs from February to November.
• Insulate to slash your heating bills.
• Walk around the house with an incense stick to trace the source of draughts, then block them with newspaper if you are poor; weather strips or sealant if you can afford them.
• Keep lids on pans when cooking to reduce excess moisture.
• Dry clothes outside or when the weather does not allow this, use an externally vented dryer.
• Insulate your hot-water cylinder.
• Hang thermal-backed curtains. Try the Dunedin Curtain Bank if you can't afford them.
• When negotiating improvements with your landlord, frame them as long-term investments rather than quick fixes. Brownie points for making them think it was all their idea in the first place.
• If your landlord is not meeting his/her responsibilities, issue a ''notice to remedy'', giving 14 days to fix the problem (see www.dbh.govt.nz/pub-sorting-out-problems), or consider taking the matter to the Tenancy Tribunal.
---